Welcome win against gas pipeline!
January 8, 2020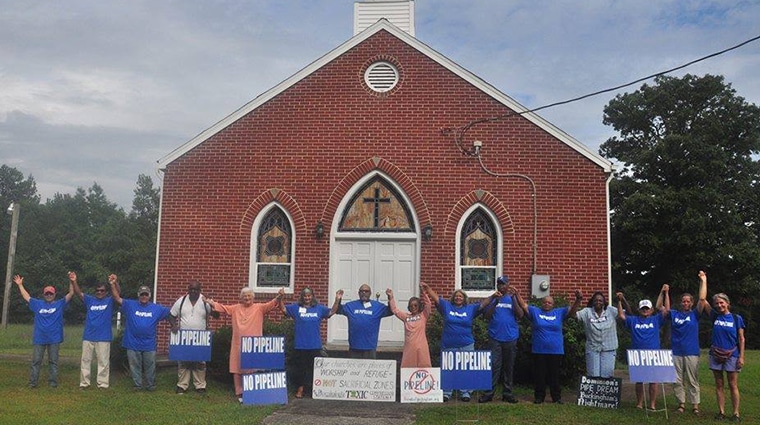 In a significant win for environmental justice and the climate, a federal court has overturned a key permit for a Virginia compressor station on the proposed Atlantic Coast fracked-gas pipeline.
The 4th Circuit Court of Appeals nullified the compressor station's air permit and ordered the Virginia Air Pollution Control Board to reconsider the permit request.
Congratulations to our friends and allies in Buckingham County and the community of Union Hill, whose years of grueling work made this victory possible!
Union Hill, where the compressor station is proposed to be built, is a majority-African American community founded by formerly enslaved people. Disregard for the potential health impacts on Union Hill residents was one of the key concerns cited by the court.
The compressor station would pollute the air with toxic benzene and formaldehyde and dangerous particulate matter, as well as methane, a potent greenhouse gas, and radioactivity from the breakdown products of radon.
PSR worked for several years to assist the tireless activists of Buckingham County and presented health testimony to the Virginia Air Pollution Control Board and the Department of Environmental Quality.
Dominion Energy, majority owner of the pipeline, is a political powerhouse in Virginia and a major contributor to many political campaigns.
On November 3 in Washington, DC, Physicians for Social Responsibility bestowed a Health Hero Award upon Tina Cordova, co-founder of the Tularosa Basin Downwinders Consortium. ...
On November 16, 218 mayors, city councilors, county and municipal officials and state legislators from around the United States delivered a letter to President Joe Biden...
Three important reports on climate change were issued recently – and the news isn't good. They found widespread impacts and more billion-dollar climate- and weather-related...