Unhealthy trend: a new Cold War with China
May 20, 2021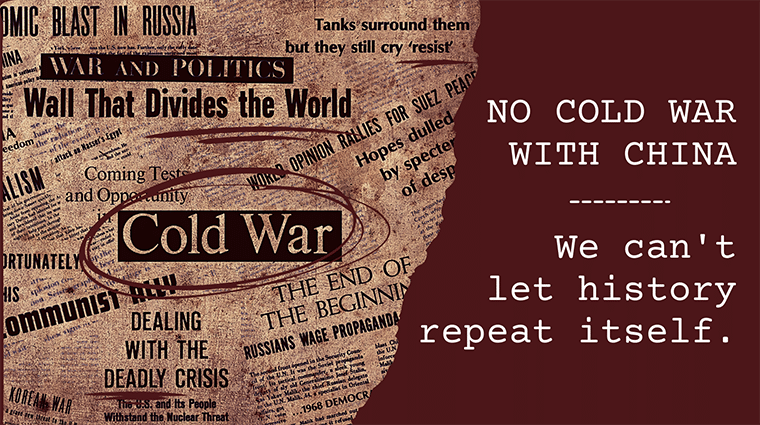 Bipartisanship is difficult to achieve in Congress lately. However, an unfortunate bipartisan trend is gaining ground to usher in a new Cold War with China. President Biden, the Pentagon, and many Members of Congress are pointing to China as justification for an astronomical 2022 military budget, higher—not lower—than President Trump's final budget. On May 10, the Senate Foreign Relations Committee voted to advance the Strategic Competition Act, introduced by Senator Menendez (D-NJ) for full Senate consideration. Sixty-six organizations—including Physicians for Social Responsibility and San Francisco Bay Area PSR—issued a joint statement on May 17 to draw attention to many flaws in this legislation. This statement, which was featured in Politico, expressed deep concern "about the growing Cold War mentality driving the U.S. approach to China" and urged the president and Congress to work with China and other nations to address the "true global security challenges of today—like economic inequality and lack of opportunity, climate change, nuclear proliferation, pandemics, financial crises and supply chain disruption, and ethnonationalism."
Like the United States, China is highly militarized, maintains a nuclear arsenal and is overspending on its military. In fact, according to Stockholm International Peace Research Institute, China's military spending has risen for 26 consecutive years. China has more uniformed personnel in its armed forces than any other nation. But none of this warrants additional U.S. military spending. For perspective, here are some comparisons:
| | | |
| --- | --- | --- |
| | China | United States |
| 2020 military spending | $252 billion | $740.5 billion |
| 2020 military spending as % of Gross Domestic Product | 1.7% | 3.7% |
| Military spending change 2019 to 2020 | Up 1.9% | Up 4.4% |
| Nuclear weapons in military stockpile | 350 | 3800 |
Spending source: Stockholm International Peace Research Institute
Nuclear weapons source: Federation of American Scientists
As of May 20, the full Senate was hard at work combining the Menendez bill with several other bills including one from Senate Majority Leader Chuck Schumer (D-NY) into a new bill called "U.S. Innovation and Competition Act."
Here is a final excerpt from the joint statement from 66 organizations. "While the administration and many in Congress acknowledge the need for cooperation on issues of global concern such as climate change, presenting the U.S.-China relationship as a zero-sum economic and military struggle between democracy and authoritarianism, as the Strategic Competition Act does, creates a political environment that leaves little room for such cooperation. Instead, the level of demonization and outdated Cold War thinking driving such efforts threatens to fuel destabilizing arms-racing and risks escalation towards a predictably devastating conflict."
On November 3 in Washington, DC, Physicians for Social Responsibility bestowed a Health Hero Award upon Tina Cordova, co-founder of the Tularosa Basin Downwinders Consortium. ...
On November 16, 218 mayors, city councilors, county and municipal officials and state legislators from around the United States delivered a letter to President Joe Biden...
Three important reports on climate change were issued recently – and the news isn't good. They found widespread impacts and more billion-dollar climate- and weather-related...