U.S. House shovels additional money to military-industrial complex
July 21, 2022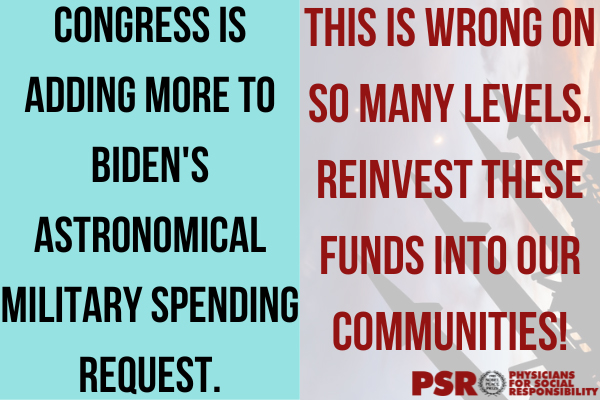 On July 13, the House of Representatives voted to defeat two amendments to cut the Pentagon budget put forward by Representatives Barbara Lee (D-CA) and Mark Pocan (D-WI). In so doing, the House approved adding $37 billion to President Biden's astronomical $813 topline military spending request.
These were amendments to the National Defense Authorization Act. The first amendment would have reduced the overall Pentagon topline amount by $100 billion. That amendment received 78 votes for, with 350 against. The second would have rescinded $37 billion in additional Pentagon spending added in House Armed Services Committee to President Biden's topline request. That amendment received 151 votes for, with 277 against.
PSR views security with health in mind, and we are appalled that the House of Representatives defeated these two amendments. Responding to the vote, PSR Nuclear Weapons Abolition Program Director Martin Fleck said:
"Americans look to Congress for true leadership and real help, and they are getting neither. We cannot support thriving communities while subscribing to a "national security" system that robs communities of resources and at the same time puts their very existence at risk. 140 million Americans are living in poverty or are scraping by with low-wage jobs. Many are struggling to put food on the table. Ordinary citizens are reeling from 9% inflation, dangerous new Covid mutations, inadequate health care and inequitable access to it. What's more, we are counting on our government to address the climate crisis.
"I doubt that a single Representative who voted for the increase–despite their rhetoric–honestly believes that the Department of Defense cannot adequately defend our country with the 813 billion dollars that the Pentagon requested. That number is already higher, adjusted for inflation, than we were spending at the peaks of the Korean or Vietnam wars, or at the height of the Cold War. That amount exceeds the military spending of the next nine nations combined. Even so, the House voted to add more. It becomes clear that the majority of U.S. House members are in the thrall of military contractors, and it's infuriating."
PSR's response to this House action is here.
A Congressional Budget Office report (Oct. 2021) indicating how the Pentagon could well-defend the country with $100 billion less per year is here.
On November 3 in Washington, DC, Physicians for Social Responsibility bestowed a Health Hero Award upon Tina Cordova, co-founder of the Tularosa Basin Downwinders Consortium. ...
On November 16, 218 mayors, city councilors, county and municipal officials and state legislators from around the United States delivered a letter to President Joe Biden...
Three important reports on climate change were issued recently – and the news isn't good. They found widespread impacts and more billion-dollar climate- and weather-related...