Time for Congress to Re-think Security
March 26, 2021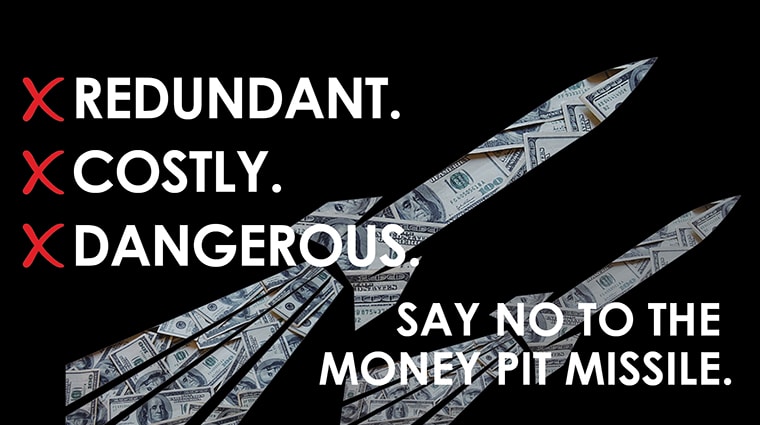 On March 26, Senator Ed Markey and Representative Ro Khanna introduced the Investing in Cures Before Missiles (ICBM) Act, which would transfer over $1 billion in taxpayer funds from development of a new intercontinental ballistic missile over to the National Institute of Allergy and Infectious Diseases for vitally important development of a universal coronavirus vaccine to better prepare Americans for future COVID pandemics. "The United States should invest in a vaccine of mass prevention before another new land-based weapon of mass destruction," said Senator Markey. PSR and allied organizations welcomed this new legislation to stop the "money pit missile" a.k.a. "Ground Based Strategic Deterrent."
Jeff Carter, PSR's Executive Director, said: "Physicians for Social Responsibility welcomes this sensible legislation from Senator Markey and Representative Khanna. It is clear that pandemic preparedness and public health infrastructure are much better investments than new nuclear weapons we don't need and that don't make us safe."

See PSR's ICBM Act Fact Sheet and ICBM Act Talking Points and Senator Markey's press release.
Original Senate co-sponsors: Senators Chris Van Hollen (D-MD), Bernie Sanders (I-VT), and Jeff Merkley (D-Ore.).
Original House co-sponsors: Earl Blumenauer (OR-03), Steve Cohen (TN-09), Jesus García (IL-04), Raúl M. Grijalva (AZ-03),  Jared Huffman (CA-02),  Sheila Jackson Lee (TX-18), Pramila Jayapal (WA-07), Barbara Lee (CA-13), Jim McGovern (MA-02), Eleanor Holmes Norton (DC), Ilhan Omar (MN-05), Mark Pocan (WI-02), and Ayanna Pressley (MA-07).
Gas stoves pose a health risk, particularly for children and the elderly. People living in homes with gas stoves experience higher rates of asthma, lung...