Thirty-three organizations call for constructive U.S. diplomacy with Korea
February 22, 2019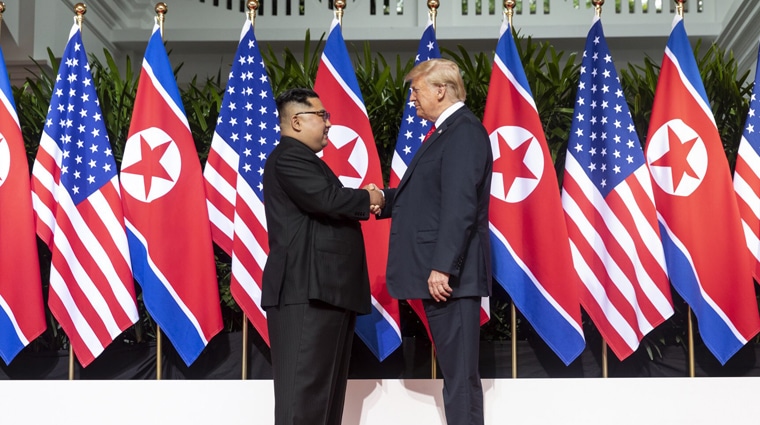 In advance of the February 27-28 United States/North Korea summit, PSR joined with 32 allied nongovernmental organizations to issue a "Statement of Pro-Diplomacy Groups Regarding U.S. Policy Toward North Korea." The statement was circulated by Win Without War. Read the statement and list of endorsing NGOs below.
---
Statement of Pro-Diplomacy Groups Regarding U.S. Policy Toward North Korea
February 2019
The United States has a rare opportunity to advance the twin goals of denuclearization and a lasting peace regime on the Korean Peninsula, commitments that the two nations made during their unprecedented Summit in Singapore in June 2018. With this in mind, pro-diplomacy organizations urge members of Congress to commit to the following principles as they relate to U.S.-North Korea policy:
Support a process with reciprocal actions that verifiably suspends and dismantles North Korea's nuclear weapons and ballistic missile programs and addresses mutual security concerns, such as:

a political statement declaring an end to the Korean War,
building a stable and lasting peace regime on the Korean Peninsula,
joint US-DPRK trust-building programs such as:

continuing POW/MIA remains repatriation, and
reunions between long-divided North Korean and Korean American families

Support South Korea in its efforts to improve inter-Korean relations through confidence-building and tension reduction measures, including the commitments made in the Panmunjom Declaration in April 2018:

reduce acute military tensions
replace the armistice agreement with a peace regime
inter-Korean economic and civic projects, and
humanitarian relief efforts.

Oppose an unprovoked U.S. military attack on North Korea, which could trigger full-scale — potentially nuclear — war, endangering the lives of tens of millions in the region, including South Koreans and Americans;
Support targeted sanctions relief in exchange for concrete, verifiable actions toward denuclearization
Strengthen sanctions exemptions for humanitarian activities and maintain consistent congressional oversight on the implementation of humanitarian exemptions.
Support the inclusion of women, youth, and other civil society actors in ongoing negotiations.
Endorsed by: Arms Control Association; Beyond the Bomb; Campaign for Peace Disarmament and Common Security; Center for International Policy; Council for a Livable World; CREDO; Daily Kos; Foreign Policy For America; Friends Committee on National Legislation; Good Friends USA; Just Foreign Policy; Korean American National Coordinating Council, Inc.; Korean Americans in Action; Maryknoll Office for Global Concerns; Mennonite Central Committee U.S. Washington Office; Military Families Speak Out; MoveOn; National Association of Korean Americans; Nautilus Institute for Security and Sustainability; Nuclear Age Peace Foundation; Nuclear Crisis Group; Pax Christi International; Peace Action; Peace Committee of the Korean Association of the United Methodist Church; Physicians for Social Responsibility, Ploughshares Fund; Presbyterian Church (USA); VoteVets; War Prevention Initiative; Washington Physicians for Social Responsibility; Win Without War; Women's Action for New Directions; Women Cross DMZ
On November 3 in Washington, DC, Physicians for Social Responsibility bestowed a Health Hero Award upon Tina Cordova, co-founder of the Tularosa Basin Downwinders Consortium. ...
On November 16, 218 mayors, city councilors, county and municipal officials and state legislators from around the United States delivered a letter to President Joe Biden...
Three important reports on climate change were issued recently – and the news isn't good. They found widespread impacts and more billion-dollar climate- and weather-related...