The youth Climate Strike is coming. I urge you to support it.
September 16, 2019
This Friday, September 20, young people around the world will stand up to demand urgent action on the climate emergency.
It's the Climate Strike, and I urge you to support it.
Young people will be walking out of schools and universities to insist that the world doesn't have time for "business as usual." The heat, drought, wildfires and extreme storms of the past few months underscore how right they are.
People of all ages are encouraged to join them in calling for swift, strong action. Here are three ways you can do that:
Join a public action on Friday, September 20 or during the Week of Action, September 20-27. You can find links to events, and some useful guidance for adults who want to participate, here.
Go public with your concern. Write a letter to your local newspaper applauding youth for taking leadership on this threat to our health and survival. Suggestions below.
If you live in Seattle, San Francisco, Boston or Portland, Oregon, you're in luck! You can join a PSR contingent in a Climate Strike event. View PSR's upcoming events here.
The IPCC tells us we have 10 years to cut carbon emissions in half and assure a livable planet for our kids and grandkids. Let's step up now to support the young people who are calling for immediate action.
Write an LTE in Support of the Climate Strikers!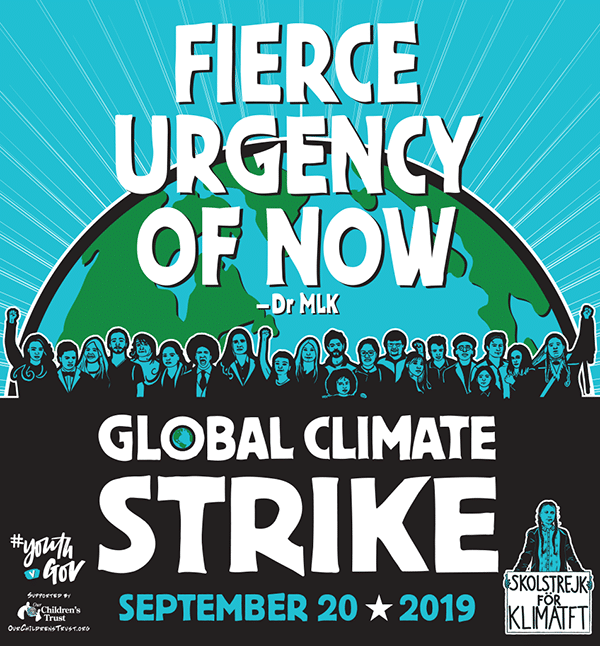 Writing a letter to the editor of your local newspaper is one of the easiest ways to focus your community on climate change. Here are suggestions for a brief, three-point letter on the climate strike. But don't feel limited by these—raise your own voice.
1. Insist on urgency
State what moves you to understand that climate change is a health emergency. Is it the death and devastation inflicted on Bahamians by Hurricane Dorian—and the likelihood of more such extreme storms as climate change grows? Are you feeling the effects closer to home? If so, describe how.
2. Supportive tone
Voice your support for the millions of young people who are participating in climate strikes in over 160 countries around the world.  Acknowledge that they face a frightening future.  Applaud their vision and leadership for climate action.  Embrace their sense of urgency.
3. Call your community to action
Let your community know climate change is already impacting all of us, and that we all need to respond.  Suggest to your neighbors—and your elected officials, who keep a close eye on local newspapers—how we can all help secure a livable climate for our kids and grandkids.  Whether it's transitioning to clean, safe, renewable energy and energy efficiency, driving less and walking or taking public transit more, or urging our elected representatives to take strong, bold climate action, share your sense that hope lies in taking action.
For general guidance on how to write a brief, clear, impactful letter, check out our guidance here.
Lanterns afloat on Green Lake. Photo credit: Nancy Dickeman Do you think this would be a good moment to strengthen the "nuclear taboo"? You're not...