"The first step in a series of bold, comprehensive measures needed to address climate change": PSR Applauds U.S. House Passage of H.R. 9, the Climate Action Now Act
May 2, 2019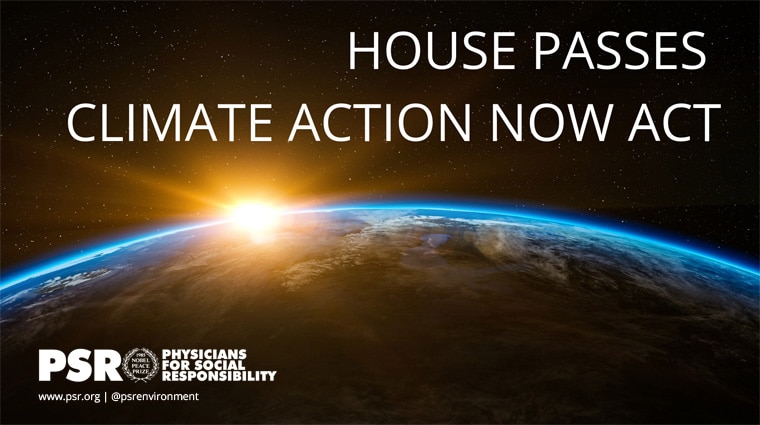 For Immediate Release
Press contact:
Olivia Alperstein, Media Relations Manager, (202) 587-5232
Washington, D.C.—On May 2, 2019, the U.S. House of Representatives voted to pass H.R. 9, the Climate Action Now Act.
In response, Physicians for Social Responsibility (PSR) issued the following comment:
"Physicians for Social Responsibility applauds the passage of H.R. 9, the Climate Action Now Act. Climate change is a health emergency. The health and in some cases the lives of our people and our communities depend on bold climate action, now," said Jeff Carter, Executive Director of PSR. "We are already facing health, security and economic impacts of climate change. The Climate Action Now Act is an important first step, but only the first step, in a series of bold, comprehensive measures needed to address climate change and avert catastrophic consequences of global warming. We need a rapid, just transition to clean, safe renewable energy, plus changes in our transportation system, our agriculture system, and other aspects of the way we live and work."
###
About Physicians for Social Responsibility
PSR is a nonprofit organization representing medical and health professionals and concerned citizens, with approximately 40,000 members and supporters and with chapters in major cities and medical schools throughout the United States. PSR has been working for more than 55 years to create a healthy, just and peaceful world for both present and future generations. Learn more at www.psr.org and follow us on Facebook and Twitter.
CONTACT: Isabella Javidan, ijavidan@psr.org, 612-812-3231 Washington, DC – On May 11, the U.S. Environmental Protection Agency (EPA) released a set of proposed rules that would...