The False Promise of CCS, Dissected.
April 18, 2022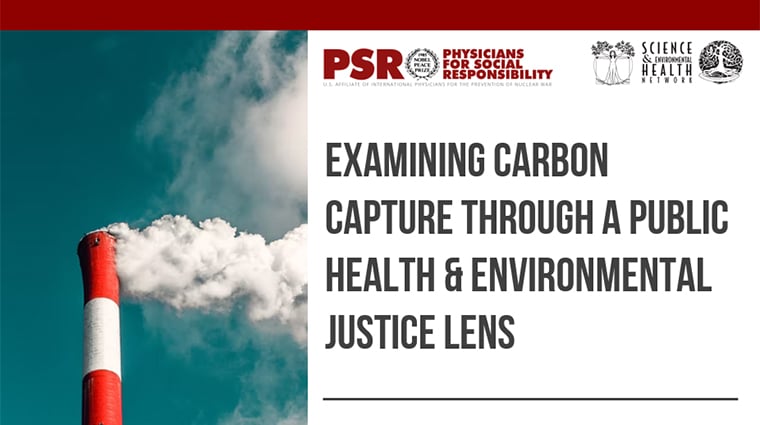 PSR co-presented a powerhouse webinar on carbon capture and sequestration – the unproven and faulty techno-fix that hasn't yet shown it can capture and safely store carbon pollution forever. Watch the webinar here.
PSR was honored to co-host Examining Carbon Capture Through A Public Health and Environmental Justice Lens with the Science and Environmental Health Network. The webinar examined and critiqued carbon capture and storage (CCS) with a focus on its threats to health and impacts on vulnerable communities.
CCS proposes to capture carbon dioxide from heavily polluting sources (coal-burning power plants and industries, ethanol plants, and others), super-compress it into liquid form and send it through pipelines to underground chambers where it will be stored, presumably, forever.
The immensely qualified panelists provided a sobering assessment of CCS's risks:
Ted Schettler, MD MPH, science director of the Science and Environmental Health Network, provided a chilling description of the toxicity of concentrated CO2 and the dangers posed by possible pipeline accidents.
Sandra Steingraber, PhD, biologist and driving force behind the fracking Compendium, expanded on the toxic elements and risks baked into the entire CCS life cycle.
Maureen McCue, MD PhD, president of PSR Iowa, addressed CCS's challenges to rural health. Most CCS pipelines would pass through rural communities.
Martha Dina Arguello, executive director of PSR L.A., spoke about the ways CCS multiplies the harms to disenfranchised and frontline communities, making CCS an Environmental Justice issue.
Arjun Makhijani, PHD, president of the Institute for Energy & Environmental Research, addressed the opportunity costs inherent in pursuing CCS, which would require an extensive, expensive system of infrastructure and would perpetuate our reliance on dirty, climate-killing fossil fuels.
You can watch their presentation here.
Gas stoves pose a health risk, particularly for children and the elderly. People living in homes with gas stoves experience higher rates of asthma, lung...