Tell your U.S. Rep: Oppose funding to deploy Easy-Fire Nukes
June 10, 2019
This action alert is no longer active
We need your help.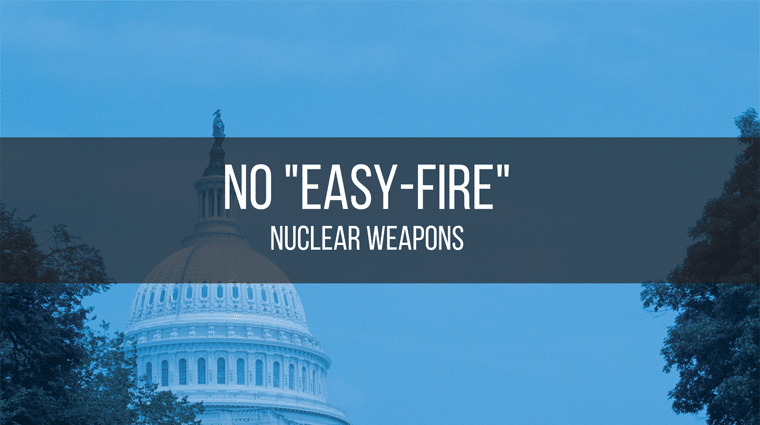 There's a new nuclear weapon that's intended to lower the threshold for nuclear war: the "Low Yield" warhead, a.k.a. "W76-2." PSR calls this weapon, slated to be mounted atop a submarine-based Trident missile, the "easy-fire nuke." If this weapon makes its way into the arsenal, American leaders may be tempted to use it in some future crisis. To call it "low-yield" is ridiculous: this weapon would be 2600 times more powerful than Timothy McVeigh's 1995 Oklahoma City bomb.
Thankfully, we have champions in Congress who are working hard to prevent deployment of such a dangerous, "usable," warfighting nuclear weapon. Representative Adam Smith (WA), the Chairman of the House Armed Services Committee (HASC), is determined to prevent the W76-2 from being deployed.
We actually have a chance to win this. Congressional champions in the Defense Appropriations Subcommittee and the Energy and Water Appropriations Subcommittee voted to zero out funding requested by the Trump administration for easy-fire nuclear warheads. The full House Appropriations Committee then passed both the FY 2020 Defense Appropriations and FY 2020 Energy and Water Appropriations on a party line vote, with those line items zeroed out. That's great news, but it's not a victory yet.
This week, those bills are coming to the floor of the House for votes. Will you help PSR ensure that this incredibly dangerous weapon stays out of the budget? As a constituent, take a minute to call your Member of Congress today. Call the Capitol Switchboard at (202) 224-3121 and provide the name of your Member of Congress, and the switchboard operator will connect you directly to staff at the appropriate office. In that call, you'll likely be asked for your name and address.
Tell the representative's office:
'Hi, this is [your name] and I'm a constituent from [town/city]. I'm calling to urge Representative [name] to stand strong when voting on Appropriations and oppose any amendments to fund "low-yield" nuclear warheads. These are easy-fire nuclear weapons, and they increase the risk of nuclear war.'
Thank you for taking action.
(Unsure who your U.S. Representative is? No problem! You can visit the U.S. House website and find out using your zip code.)
This action alert is no longer active This week, as the NDAA (National Defense Authorization Act) is considered on the floor of the House, Representatives...