Tell Your Senators: Help Citizens, Not Defense Contractors
May 21, 2020
This action alert is no longer active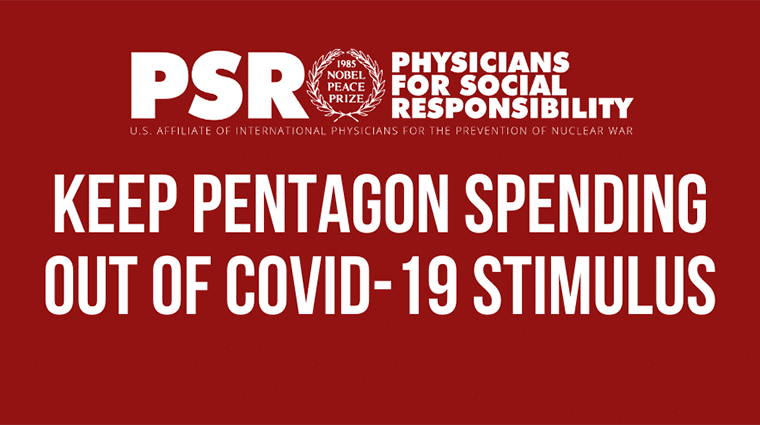 Last month, PSR joined over 60 other organizations urging Congress against providing additional funding to the Pentagon in future Covid-19 relief bills. We are happy to say that in response,  the recent stimulus bill which passed in the House—The Heroes Act—contains no new funds for the Pentagon.
The first Covid-19 response bill included $10.5 billion  for the Pentagon, on top of an already massive Fiscal Year 2020 military budget of $733 billion. In the face of the pandemic, we need to put all possible resources towards immediate economic and health concerns of our communities.
The change for the new legislation is a real victory. But it can't stop here. As we continue to confront the Covid-19 crisis, we must make sure that we put the health of the people before the bottom line of military contractors. No additional perks for the Pentagon. Not during the crisis. Not after.
We could not have accomplished this goal without pressure on Congress from citizens like you, and now we need your help to move this effort forward in the Senate.
Contact your U.S. Senators and urge them to keep additional Pentagon funding out of the Senate version of the next stimulus bill.
Covid-19 has made one thing clear: Pouring money into the Pentagon while cutting funding for public health and other human needs has not made us safer. It's time to rethink our approach to national security, and put human needs first. This idea is gaining traction as we strive to control the damage from the pandemic.
Take action today and make your voice heard.
This action alert is no longer active This week, as the NDAA (National Defense Authorization Act) is considered on the floor of the House, Representatives...
This action alert is no longer active Image: PSR Colorado / CC BY-NC 4.0 Gas stoves emit dangerous air pollutants that harm our lungs, hearts...
This action alert is no longer active The debt limit deal backed by President Biden and House Speaker Kevin McCarthy includes not one but two...