Tell your senators: Cut the gigantic military budget
December 1, 2021
This action alert is no longer active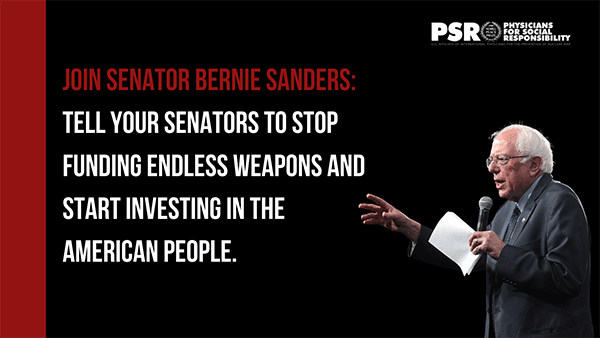 As you read this, Congress is busy throwing unnecessary money into the Pentagon budget for Fiscal Year 2022 — money that President Biden didn't even ask for. But soon your U.S. senators will have a rare opportunity to oppose runaway military spending.
Earlier this year, with only one dissenting vote by Senator Elizabeth Warren, the Senate Armed Services Committee ADDED $25 billion to President Biden's proposed military budget. Senator Bernie Sanders, with support from Senators Warren and Ed Markey, is outraged by Congress' severely mismanaged priorities — and so is PSR. Are you?
Here's what you can do:
Send a message today to your senators and demand that they support Senate NDAA Amendment 4654 — introduced by Senator Sanders — to cut the additional $25 billion and restore the Pentagon budget to Biden's initial request. This amendment will help prevent the already ballooning Pentagon budget from stealing even more money that can be used to address the needs of the American people.
The time to act is now — and you can make a difference!
This action alert is no longer active This week, as the NDAA (National Defense Authorization Act) is considered on the floor of the House, Representatives...