Tell your senators: Cut the B-83 and help end the pandemic
November 18, 2021
This action alert is no longer active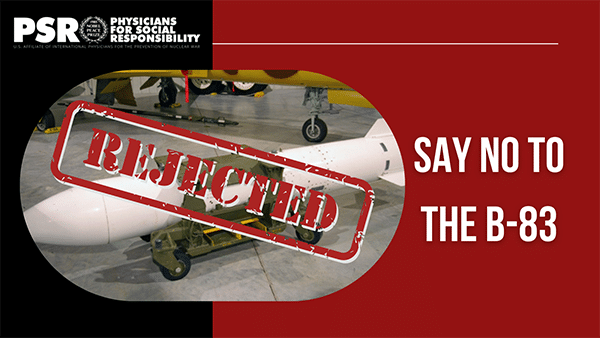 Back in September, the House voted and passed the highest National Defense Authorization Act (NDAA) in U.S. history, all while cutting funding to help fight the ongoing and future pandemics. Soon it will be the Senate's turn. As if it wasn't egregious enough that both the House and Senate voted to throw an extra $25 billion at the Pentagon, they are currently on the path to funding useless weapons instead of investing in human lives.
Now is the time to let your Senators know that you no longer want to fund weapons of war.
One of those useless weapons is the B-83 nuclear gravity bomb. A relic of the Cold War, the B-83 was slated to be phased out due to its excessive firepower but the Trump administration reversed course and kept the weapon. Just one of these weapons is as powerful as almost half of all explosives used during World War II, including both atomic bombs dropped over Hiroshima and Nagasaki.
Maintaining this weapon that can never be used is simply just a waste of taxpayer dollars. Senator Jeff Merkley (OR) and Senator Elizabeth Warren (MA) recognize that, and have proposed an amendment to the NDAA for Fiscal Year 2022 to address this very problem.
Senators Merkley and Warren's amendment would cut the $98.55 million that is slated to maintain the B-83, and instead use those funds to help supply developing countries with Covid-19 vaccinations. As the pandemic rages on and half the world still struggles to get their first vaccination, we must re-evaluate our priorities as a country. Instead of throwing away money on an absolutely useless doomsday device, we should be helping to bring an end to this pandemic and offering support to those who need it most. PSR has already signed onto a letter alongside 38 other organizations calling for U.S. Senators to vote "yes" on Senators Merkley and Warren's amendment.
You can take action now. Send a message to your senators and tell them to support the amendment proposed by Senators Merkley and Warren to cut funding for the B-83 and put it towards vaccinating the developing world. It is time that the U.S. gets its priorities straight: we can no longer fund weapons of war. It's time to invest in human lives.
This action alert is no longer active This week, as the NDAA (National Defense Authorization Act) is considered on the floor of the House, Representatives...
This action alert is no longer active Image: PSR Colorado / CC BY-NC 4.0 Gas stoves emit dangerous air pollutants that harm our lungs, hearts...
This action alert is no longer active The debt limit deal backed by President Biden and House Speaker Kevin McCarthy includes not one but two...