Tell the Biden Administration: It is time for the U.S. to engage with the Ban Treaty
September 21, 2023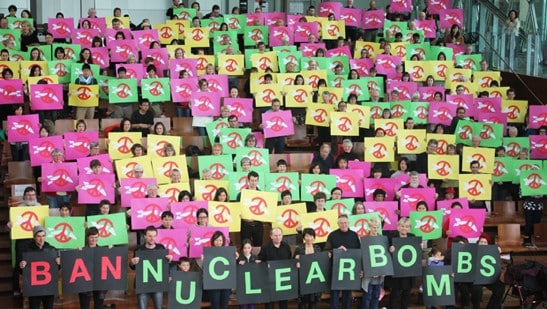 With regard to nuclear weapons, the path to the future has been mapped out by the Treaty on the Prohibition of Nuclear Weapons (TPNW), a vitally important document supported by 69 ratifying nations and an additional 24 signers who have not yet ratified. These countries-and more to come–are expressing the urgent need to reduce and eventually eliminate nuclear weapons worldwide. The increased risks we see in the current international situation only make this more urgent.
Unfortunately, all of the nuclear-armed countries have refused to sign or ratify the treaty.
But ALL nations have been invited to send official delegations to the Second Meeting of States Parties to the TPNW, coming up November 27 to December 1 at UN headquarters in New York City. In the case of the United States, we are invited to send "observers" to the meeting.
The U.S. has not committed to send observers, but it certainly should. Observers can participate in the meetings and make statements. More importantly, the U.S. can signal to the world that our country is concerned and responsive. Sending U.S. observers would also signal to the other nuclear-armed countries that we are willing to step up to address nuclear weapons threats, and they should, too.
Please send a message to the Biden Administration encouraging him to send an official delegation of observers to this important international meeting at the UN.
Health leaders across the globe are calling on decision makers to put health first and to prioritize a rapid and just transition away from fossil...
It's time for urgent action: Congress only has 20 days left in session for the entire year, and there is a lot of important legislation...
Photo: Dark Sevier / CC BY-NC 2.0 The Dakota Access Pipeline (DAPL) has been a battleground of environmental justice, indigenous sovereignty, and public health for...