Tell Congress: Stop Fossil Fuel Bailouts during the COVID-19 Pandemic!
May 20, 2020
This action alert is no longer active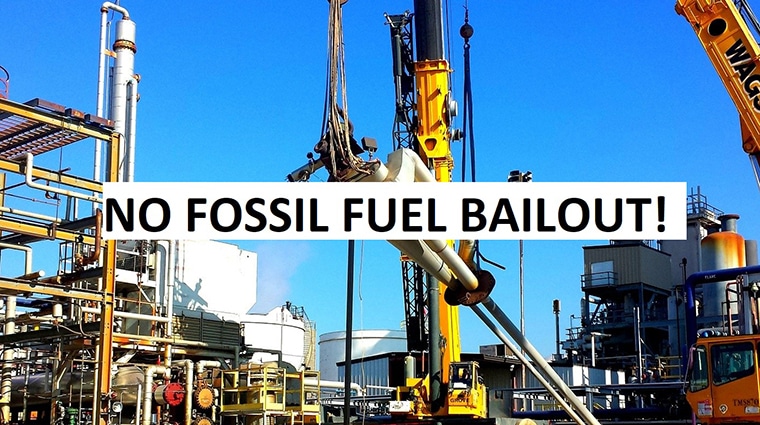 In the midst of a pandemic, the Trump Administration is making plans to transfer vast amounts of public dollars to the fossil fuel industry, while vulnerable communities and workers still lack essential protections. This is not okay!
To block this effort, nearly 40 members of Congress just introduced the Resourcing Workforce Investments, Not Drilling (ReWIND) Act (S. 3611 and H.R.6707), a new bill to prevent the Trump Administration from bailing out these big polluters.
In this public health crisis, it's critical to be sending the relief directly to the most vulnerable communities and people impacted by COVID-19. And we should not be subsidizing the fossil fuel industry, now or ever.
The ReWIND Act would block Trump from using COVID-19 stimulus funds to bail out these big polluters, stop banks for buying up distressed oil and gas companies, and ban many other dangerous and risky fossil fuel bailout plans.
The choice we face is simple: Prioritize economic relief to small vulnerable businesses, workers and populations, or prop up a dying industry that exploits communities and its workers, while harming our health and climate.
Email your U.S. Senators and Representative now and urge them to cosponsor and pass the ReWIND Act and block a fossil fuel bailout of any kind.
This action alert is no longer active This week, as the NDAA (National Defense Authorization Act) is considered on the floor of the House, Representatives...
This action alert is no longer active Image: PSR Colorado / CC BY-NC 4.0 Gas stoves emit dangerous air pollutants that harm our lungs, hearts...
This action alert is no longer active The debt limit deal backed by President Biden and House Speaker Kevin McCarthy includes not one but two...