Tell Congress: Prevent the U.S. from Starting a Nuclear War
September 15, 2021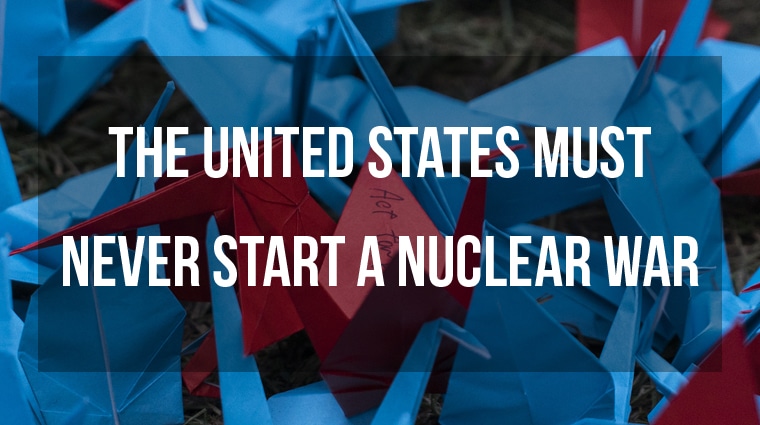 Right now, the U.S. President could order a nuclear attack, without anyone else's agreement or approval, launching weapons of mass destruction that could indiscriminately kill millions of civilians. There would be no way to reverse such an order.
Most Americans agree: we don't want the U.S. to ever start a nuclear war.
That's where you come in.
Representative Adam Smith of Washington, Chairman of the House Armed Services Committee, has teamed up with Senator Elizabeth Warren of Massachusetts, a member of the Senate Armed Services Committee, to introduce bicameral legislation changing U.S. nuclear weapons policy to "no first use." It's a change that is long overdue. A No First Use policy would mean that the U.S. pledges not to engage in first use of nuclear weapons.
Smith is seeking cosponsors for his bill. Let's help him challenge the nuclear status quo.
Ask your U.S Representative to cosponsor H.R. 2603 in the House today.
In a joint statement announcing this legislation, Smith and Warren said: "Our current nuclear strategy is not just outdated—it is dangerous. By making clear that deterrence is the sole purpose of our arsenal, this bill would reduce the chances of a nuclear miscalculation and help us maintain our moral and diplomatic leadership in the world." PSR and a constellation of allied organizations have pledged to support the bill.
For decades, the U.S. military has been spending billions of dollars to upgrade the nuclear arsenal to expand nuclear first-strike capabilities, using money that could otherwise go to vital programs and services Americans need, to fund a program that puts all Americans' lives in jeopardy.
Stand up for humanity and demand that United States policy precludes starting a nuclear war. Please contact your U.S. Representative now and ask her/him to cosponsor H.R. 2603.
Image: PSR Colorado / CC BY-NC 4.0 Gas stoves emit dangerous air pollutants that harm our lungs, hearts and nervous systems. Now Congress is trying...