Tell Congress: Cut the gigantic military budget
September 22, 2021
This action alert is no longer active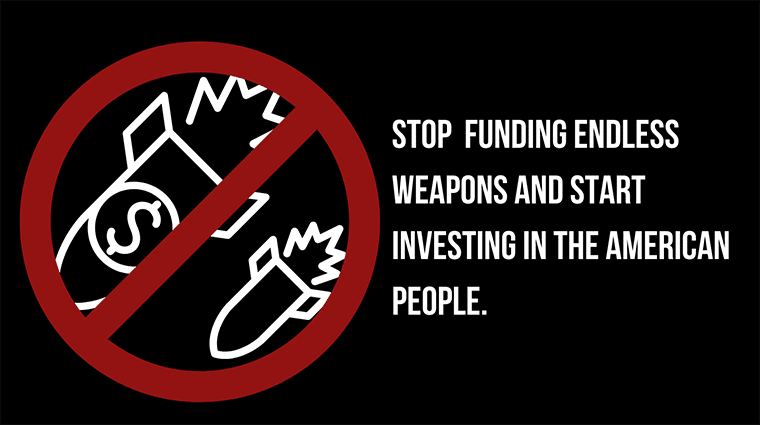 As you read this, Congress is busy throwing unnecessary money into the Pentagon budget for Fiscal Year 2022 — money that President Biden didn't even ask for. With the U.S. finally moving to end the longest war in U.S. history, we must ask why Congress is choosing to inflate the Pentagon budget to a size larger than the next 12 largest countries' military budgets combined, after cutting funding desperately needed to prevent future pandemics from the infrastructure bill.
Now is the time to tell your U.S. representative what you care about.
We must ask ourselves: do Congress' priorities align with what the people want? Adding $25 billion to the Pentagon budget to make more weapons for war does nothing to solve the truly pressing issues Americans like you care about: addressing climate change, addressing racial injustices, working to end the covid-19 pandemic, protecting ourselves against future deadly pandemics — and so much more.
Here's what you can do:
PSR supports two important Congressional amendments up for a vote in the next few days:
Amendment #602, submitted by Representative Barbara Lee (CA-13), calls for the Pentagon budget to be be cut back  to the initial $743 billion request by President Biden
Amendment #397, put forth by Representative Mark Pocan (WI-02), calls for a blanket reduction of the Pentagon budget by 10% (to exclude reductions for military personnel, Pentagon federal civilian workers, and defense health programs)
Send a message to your U.S. representative and demand that they support these amendments proposed by U.S. Reps. Lee and Pocan. These amendments will help prevent the already ballooning Pentagon budget from stealing even more money that can be used to address the needs of the American people.
And follow PSR on Twitter and LinkedIn to stay updated on these amendments!
The time to act is now — and you can make a difference! Send a message to your U.S. representative today and tell them you support prioritizing the American people over endless weapons of war.
This action alert is no longer active This week, as the NDAA (National Defense Authorization Act) is considered on the floor of the House, Representatives...
This action alert is no longer active Image: PSR Colorado / CC BY-NC 4.0 Gas stoves emit dangerous air pollutants that harm our lungs, hearts...
This action alert is no longer active The debt limit deal backed by President Biden and House Speaker Kevin McCarthy includes not one but two...