Tell Biden: No More Playing Games With Our Lives
October 19, 2022
This action alert is no longer active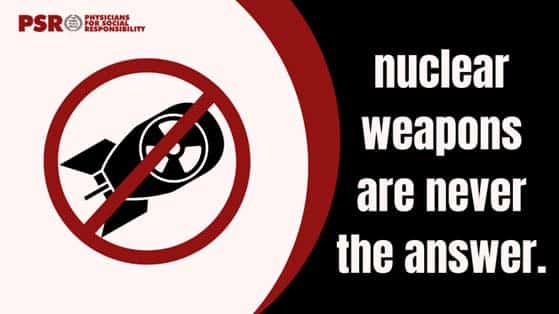 Physicians for Social Responsibility regrets having to make yet another condemnation of irresponsible actions by world leaders inching us closer and closer to a nuclear catastrophe. President Putin's repeated threats of nuclear weapons use while he prosecutes a brutal and widely condemned war in Ukraine is recklessly raising the stakes of that crisis. And for other nuclear-armed powers to carry on with business as usual, including conducting NATO nuclear warfighting drills such as "Steadfast Noon," is the wrong response.  We implore world leaders to recognize the gravity of the situation, consider the ramifications of their decisions, and act accordingly. As we always have, PSR demands that all nuclear-armed countries keep their hands off the nuclear trigger. We also urge all parties involved in this conflict to proactively, soberly and swiftly de-escalate, negotiate a ceasefire and end hostilities.
Many experts agree that the risk of nuclear detonation has not been this high since the Cuban Missile Crisis. It is critical that we all understand that any use of nuclear weapons — tactical, "low-yield", or otherwise — would have catastrophic health impacts for the immediate victims and our collective future.
The prevailing nuclear status quo risks the lives of millions on the unpredictable whims of individual leaders, including not just President Putin, but the American president as well. This is not only incredibly dangerous, but also profoundly unjust — and it must come to an end. We cannot ensure safety and security for our communities as long as nuclear weapons exist, at the apex of an entire system of violence that extends to the local level. We cannot support thriving communities when we are threatening their very existence with these weapons.
Luck is the only reason we have come this far without a nuclear catastrophe, but one day that luck will run out. We must abolish nuclear weapons before that happens. Condemning Putin's threats is not enough. Americans should also demand that President Biden bring about an immediate end to the "Steadfast Noon" NATO exercise, remove American nuclear weapons from Europe, and have this be the LAST nuclear weapons exercise of its kind. Ever. No more playing games with our lives.
It is understandable that many Americans are focused on the actions of the Russian president — his threats, and devastation taking place in Ukraine. But this momentous historical moment requires Americans to demand more from our leaders as well. The overwhelming threats the world faces can seem so insurmountable as to be hopeless, but if we put our anger, our anxiety, and our disillusionment toward productive rather than destructive tendencies in our own lives, it's not only possible but probable to envision a better, non-nuclear future for our loved ones and our planet.
Take Action
Copy and paste the suggested letter below into the White House contact form here. Please personalize your message for greater impact.
---
Dear President Biden,
As a concerned citizen, I urge you to put an immediate end to NATO's nuclear war exercise Steadfast Noon. Carrying out these exercises sends dangerous signals to Russia and the rest of the world at an already tumultuous moment in history. Steadfast Noon needs to be the LAST exercise of its kind, and we need to get U.S. nuclear weapons out of Europe. Since nuclear weapons are supposed to be off the table entirely, there should be no need to fondle them, play with them, or do drills where we practice deploying and outright using these awful weapons.
The U.S., along with the other nuclear weapons states, need to break their nuclear fetish and focus on negotiating an agreement to totally eliminate their nuclear arsenals as per the Treaty on the Prohibition on Nuclear Weapons (TPNW).
Sincerely,
[Your name]
This action alert is no longer active This week, as the NDAA (National Defense Authorization Act) is considered on the floor of the House, Representatives...