Sign PSR's Open Letter to President Biden: work for total elimination of nuclear weapons
December 2, 2021
This action alert is no longer active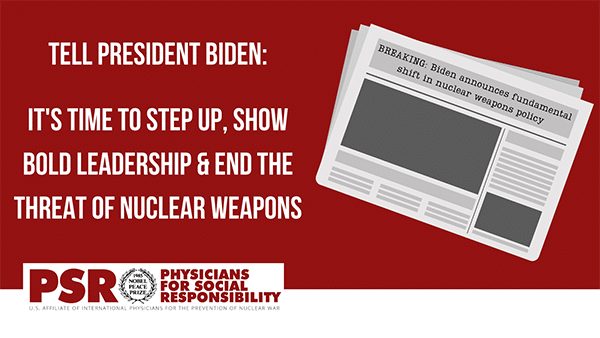 President Biden has long been an advocate for reducing the role of nuclear weapons in U.S. national security policy. From supporting a No First Use policy, to reaffirming alongside President Putin the Reagan/Gorbachev principle that "A nuclear war cannot be won and must never be fought," Biden has shown he understands the existential threat that nuclear weapons pose to humankind.
Now is the time for President Biden to put action behind his words and show the world that the U.S. is serious about ridding the world of the menace of nuclear weapons.
The best way to do that is through the Nuclear Posture Review (NPR), the document that guides U.S. nuclear decisionmaking through a President's term. President Biden has the opportunity to take bold action and make the U.S. a true leader by instituting policies to head off a new arms race with China and prevent another Cold War that would be even more dangerous than the first.
Tell President Biden to fundamentally rethink the role of nuclear weapons and to do so starting with a sensible NPR.
You can take action now. Sign PSR's Open Letter to President Biden.
To put additional pressure on President Biden, PSR will purchase a prominent ad in his hometown Wilmington paper in order to get the Open Letter in front of his eyes that way. After you sign on, you'll be asked to consider a donation to help put that ad in President Biden's hometown paper urging him to implement a responsible NPR.
There is no time to wait — the future of our children and humanity depends on it.
This action alert is no longer active This week, as the NDAA (National Defense Authorization Act) is considered on the floor of the House, Representatives...
This action alert is no longer active Image: PSR Colorado / CC BY-NC 4.0 Gas stoves emit dangerous air pollutants that harm our lungs, hearts...
This action alert is no longer active The debt limit deal backed by President Biden and House Speaker Kevin McCarthy includes not one but two...