Show Support for Victims of Nuclear Weapons this Downwinders Day
January 27, 2022
This action alert is no longer active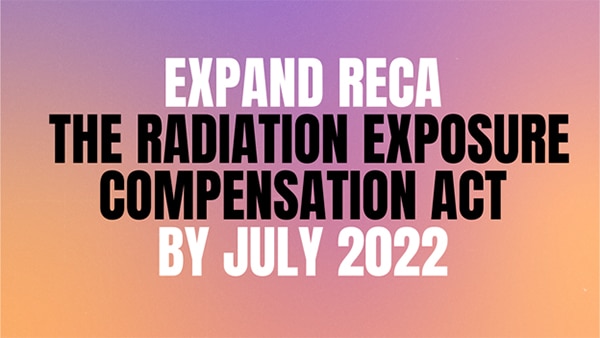 January 27 is the National Day of Remembrance for Downwinders, those who were exposed to deadly radiation from nuclear testing. We are joining Downwinders to meet with Congress and ask them to extend and expand the Radiation Exposure Compensation Act (RECA).
RECA is due to expire in July 2022. This bill is a critical lifeline for individuals harmed by U.S. nuclear weapons development and testing. To date, only a small percentage of downwinders have even been eligible for compensation. We are acting to expand RECA benefits to impacted individuals in Idaho, Montana, Colorado, New Mexico, Guam, and additional counties in Utah, Nevada, and Arizona. It is imperative that we protect and fight for the benefits these early casualties of the nuclear arms race deserve.
Support Downwinders advocating to Congress by taking action now.
Passing this bill will ensure funding for the next 19 years, and increase compensation from $50,000 to $150,000 for eligible persons in order to address soaring healthcare costs.
Today, frontline community members, state legislators, and experts are meeting with members of Congress to compel them to champion this legislation. This is your chance to add your voice to the chorus. The United States cannot undo the past, but we can and must hold ourselves accountable for the humanitarian impact of nuclear weapons production and testing. Join us in urging Congress to pass RECA before July 2022.
This action alert is no longer active This week, as the NDAA (National Defense Authorization Act) is considered on the floor of the House, Representatives...
This action alert is no longer active Image: PSR Colorado / CC BY-NC 4.0 Gas stoves emit dangerous air pollutants that harm our lungs, hearts...
This action alert is no longer active The debt limit deal backed by President Biden and House Speaker Kevin McCarthy includes not one but two...