Scientists and experts warn us humanity is closer to 'doomsday' than ever before 
January 27, 2023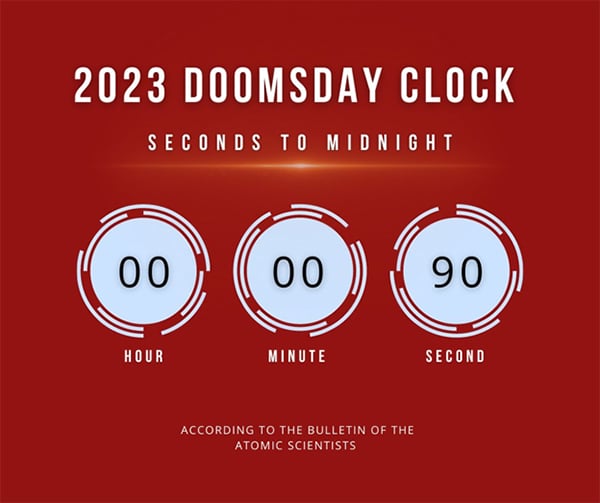 On January 24, 2023, the Bulletin of the Atomic Scientists unveiled the new setting of their Doomsday Clock. The Doomsday Clock serves as a warning of the threats posed by nuclear weapons, climate change, biosecurity, and disruptive technologies to humanity. This year, the Bulletin moved the Clock forward to 90 seconds to midnight, the closest we have ever been to midnight, or, 'doomsday.'
According to the Bulletin, the issues that caused the Clock to move forward include Russia's invasion of Ukraine and the subsequent war, the ongoing climate crisis, and our collective inability to mitigate the risks posed by the continuing COVID-19 pandemic and disruptive technologies.
"The Doomsday Clock is a stark reminder that we must interrupt our denial and confront reality," PSR declared in a statement released the same day. This reality includes the fact that Black, brown, Indigenous, poor and working class folks will be disproportionately harmed by potential doomsday. And, PSR's associate director for the nuclear weapons abolition program, Jasmine Owens, posits in a new co-authored op-ed that for these communities, doomsday is already here. See "The Doomsday Clock is More than a Metaphor" in Inkstick Media.
All hope is not lost. We can turn back the clock; in fact, it has happened before.
PSR's prescription to turn back the clock is for the U.S. to "…begin the process of pursuing a verifiable agreement among all nuclear-armed countries to totally eliminate their nuclear arsenals in compliance with international law." Until the nuclear armed nations get serious about disarmament, and until leaders around the world take bold action to combat the climate crisis and prevent further harm through disruptive technologies, we will continue to edge closer and closer to midnight, to doomsday.
Spread the Word
PSR Op-eds
My final day as PSR's Executive Director was March 24th. In a few weeks I will begin a new professional chapter, as President and CEO...