Save The Date: Poor People's Campaign June 18 Moral March on Washington and To The Polls
May 26, 2022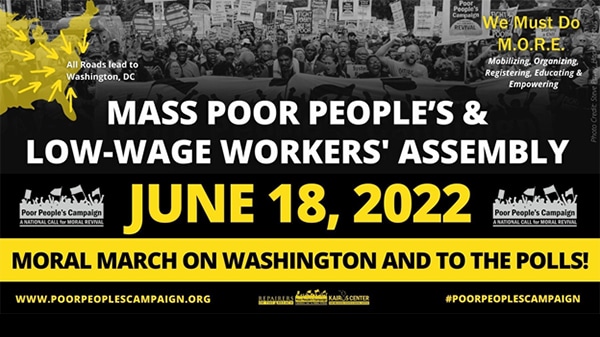 Are you frustrated with our government's mismanaged priorities of spending valuable taxpayer dollars on the military and nuclear weapons over reinvesting those funds back into our communities? Then join the Poor People's Campaign and PSR June 18 for the Moral March on Washington and To The Polls.
As a mobilizing partner of the event, PSR is working to mobilize our network to drum up support for this generationally transformative declaration of the power of poor and low-wealth people and our moral allies to say that this system is killing ALL of us and we can't…we won't…we refuse to be silent anymore.
If you're in the area, simply RSVP to the event. The PPC is also hosting a dinner and memorial for the one million+ lives lost to covid-19 the night before the march. You can sign up at this link to volunteer for the dinner.
If you're located elsewhere and interested in attending, the PPC has partnered with Rally to bus people from across the country to D.C. You can find all the information you need at this link.
If you can't attend, no worries! You can help by spreading the word far and wide. The PPC has created a digital toolkit with resources to share the event on social media and with your networks. You can also donate to support poor and low-income people coming to D.C. for the event. Donate at this link.
If you want to learn more about what the Poor People's Campaign is fighting for, watch this powerful five minute video.
We value your continued support for PSR and our efforts to join hands across borders, classes, races, religions, and genders to fight for a better, more equitable and safe world for us all.
Lanterns afloat on Green Lake. Photo credit: Nancy Dickeman Do you think this would be a good moment to strengthen the "nuclear taboo"? You're not...