Fracking with "Forever Chemicals" in Colorado
January 31, 2022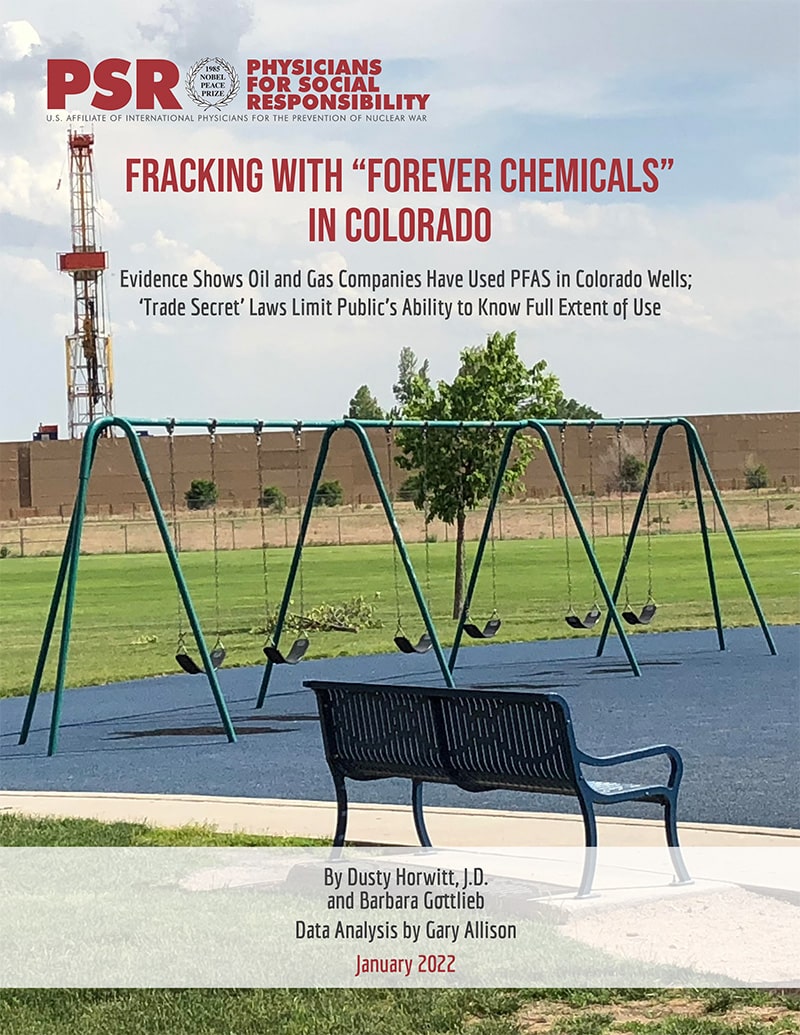 PSR is proud to release the latest in our series of reports on the use of per- and polyfluoroalkyl substances (PFAS) in oil and gas wells. Fracking with "Forever Chemicals" in Colorado analyzes industry data to document that companies have used PFAS (and/or substances that could degrade into PFAS) in drilling and fracking for oil and gas.
Just as importantly, state non-disclosure laws may obscure even wider use  of these and other dangerous chemicals. Colorado law allows oil and gas companies to avoid disclosing what chemicals they use by designating them "trade secrets."
PFAS are toxic and manmade. They are called "forever chemicals" because they are so slow to break down in the environment.
View an interactive map of wells in Colorado where PFAS have been used here.
Watch our webinar with speakers Dusty Horwitt and Sonya Lunder here.
Media Coverage
CBS Denver, Physician's Advocacy Group Sounds Alarm About Toxic Chemicals Being Used In Colorado, February 13, 2022
Sierra Magazine, Oil and Gas Companies Routinely Frack With "Trade Secret" Chemicals, Including PFAS, February 9, 2022
Denver Post, Hazardous "forever chemicals" used in Colorado for fracking, report says, February 7, 2022
Colorado Public Radio News, "Environmental group says analysis shows oil and gas companies have used 'forever chemicals' to frack wells across Colorado", by Sam Brasch, February 3, 2022
9News (NBC), "Colorado oil and gas companies can hide some chemicals used in fracking if they claim 'trade secrets'", Feb. 1, 2022