PSR's Virtual Gala Is This Tuesday!
November 11, 2022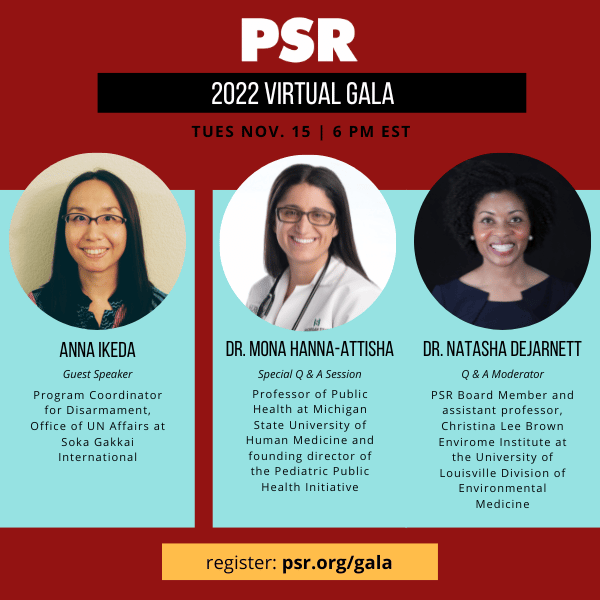 It's not too late to get YOUR ticket for our Virtual Gala this Tuesday, November 15th from 6-7:30pm ET.
We are delighted to share our Gala stage with the incredible speakers above, including PSR Board Member Dr. Natasha DeJarnett, PhD, MPH!
The Gala will be broadcast on PSR's YouTube channel; click the subscribe and notification "bell" to receive an alert when the event goes live.
Click here to get your tickets, become a sponsor, or donate TODAY!
We look forward to sharing this exciting event with you!
---
A Very Special Thanks To Our 2022 Virtual Gala Sponsors
Sidney Alexander, MD and Susan Alexander
Jeff Carter, JD
Bernard Crain, MD
Lisa Doggett, MD
Gwen Dubois, MD, and Terrence Fitzgerald, MD
Edwina Fae
Ellen Ferrenti, MD
Jimmy H. Hara, MD, PSR Los Angeles
Jennifer Leaning, MD, SHM
Alan Lockwood, MD and Anne Lockwood, PhD
Michael Martin, MD, MPH and Jeannee Martin, RN, MPH
Maureen McCue, MD, PhD
Steve McKee
Art Milholland, MD, and Luann Mostello, MD
Marjaneh Moini, MD
Drs. Thomas B. and Johannah G. Newman
Dr. John and Marilyn Pastore
Todd Sack, MD and Barbara Sack, MD
Barbara H. Warren, MD
Lumix CPAs
Creative Print Group
Gas stoves pose a health risk, particularly for children and the elderly. People living in homes with gas stoves experience higher rates of asthma, lung...