PSR's 24-Hour Earth Day Campaign Continues!
April 22, 2021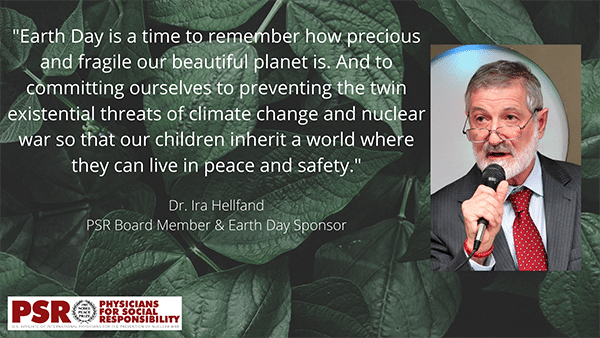 Thank you so much for your support during our first Earth Day "Giving Hour"! Your support for our work to incorporate justice and equity in everything we do is deeply appreciated.
Did you know that PSR gets an extra boost from over 100 "super-volunteers" across the country, who write letters and articles and offer testimony to advocate for effective environmental change? These exceptional individuals are our Climate Ambassadors. PSR guides them to be effective green advocates in their communities and nationally.
From Noon to 3pm EDT, your donations will go to support this extraordinary program and expand our capacity to recruit and train new advocates.
Click HERE to make your donation now!
As with our previous "Giving Hour", our goal is to engage over 200 PSR members, activists, and friends and raise $3,000. (That's only $15 per person!) In addition, our generous sponsor, Dr. Ira Helfand, has agreed to provide an ADDITIONAL $2,000 when we meet our 200 donor goal. So, please click this link and make your contribution today.
Thanks in advance for your support!
P.S. Please click here if you would prefer to mail your donation, or reach out to our Director of Philanthropy at cmurphy@psr.org.
On November 3 in Washington, DC, Physicians for Social Responsibility bestowed a Health Hero Award upon Tina Cordova, co-founder of the Tularosa Basin Downwinders Consortium. ...
On November 16, 218 mayors, city councilors, county and municipal officials and state legislators from around the United States delivered a letter to President Joe Biden...
Three important reports on climate change were issued recently – and the news isn't good. They found widespread impacts and more billion-dollar climate- and weather-related...