PSR Welcomes Four New Summer Interns!
May 31, 2022
PSR is pleased to share that we're hosting four great interns for the summer! We'll be working alongside Madeline Berzak, Hope-Marie A. Delgado, Kylie Jones, and Shreya Tamma, each passionate about creating a safer, more just world for us all. Read on to learn more about PSR's summer interns.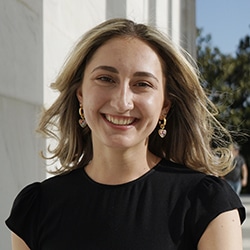 Madeline Berzak
Madeline Berzak is focused on working towards goals in denuclearization through advocacy and research. Prior to PSR, she worked on Nuclear Threat Initiative's Materials Risk Management program, and wrote her undergraduate thesis in 2021 on Generation-Z and their perception of nuclear threats. Madeline is originally from New Jersey, and graduated from American University with her Bachelor's degree in Political Science with a concentration in public policy in May of 2022. She will begin pursuing her Master's degree in Nonproliferation and Terrorism Studies at the Middlebury Institute of International Studies (MIIS) at Monterey this fall. Her life goal is to change the way people think about nuclear weapons, and eventually teach the next generation about nuclear history at the university level.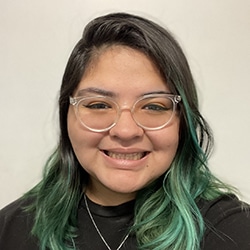 Hope-Marie A. Delgado
As a Climate Intern with PSR, Hope is eager to be a part of the team for the Summer of 2022. She will be working in areas that include federal policy and environmental justice, among other things. She hopes that this opportunity will bring her an experience that will help develop a variety of skills and pinpoint what direction she wants to go after she graduates in December of this year.
Hope is pursuing a Bachelor's Degree in Political Science at Central Michigan University. She is also minoring in History and is a First-Generation Student. At CMU, Hope is President of Spectrum (the oldest and largest LGBTQ+ organization on campus) and Conference Communications Director of ChipMUN (an organization that holds Model UN conferences for high school students). Hope also currently has two fellowships with Made By Us' Civic Season and Campus Vote Project. Hope's focus is working with historically marginalized groups as well as social issues including LGBTQ+ rights, racial injustice, and environmental injustice.
Hope was born and raised in San Antonio, Texas. She moved to Michigan at the start of her college career at Central Michigan University. She is now looking at other states in search of universities to obtain a Master's Degree in Public Administration.
Hope's life goals include building stronger relationships between constituencies and elected officials, making an impact on the environment around her, and increasing her knowledge and spreading awareness of different issues that are of interest to her.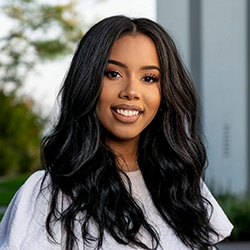 Kylie Jones
Kylie Jones is a recent graduate from Pepperdine University with a Bachelor's degree in International Studies (Global Politics), Kylie completed her senior thesis on the impact of public opinion on nuclear policymaking. Her research interests include nuclear non-proliferation and international organizations, and she has explored these interests by serving as a research assistant to Pepperdine's Dean of Social Sciences, Director of Education for Pepperdine's award-winning Model UN team, and host of the Global Tides research podcast. Prior to PSR, Kylie served as the Content Director for the West Coast chapter of Women of Color Advancing Peace and Security (WCAPS) and is looking forward to joining the Nuclear Policy Program at the Carnegie Endowment for International Peace as a James C. Gaither Junior Fellow in August. Kylie seeks to examine the dynamic landscape of nuclear politics in international relations through a career of research to promote non-proliferation, disarmament, and peace.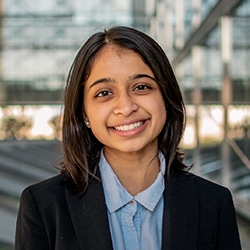 Shreya Tamma
Shreya Tamma is an intern with PSR's Environment & Health Program, where she works on a range of climate justice issues via research, media, and grassroots advocacy projects. Shreya is an incoming fourth-year undergraduate student at The University of Texas at Austin, where she is studying Biomedical Engineering with a concentration in Social Inequality, Health, and Policy. She conducts research in ethical wearable technologies for clinical applications, works on menstrual equity and abortion access in her community, and has previously interned with the non-profit organization Women in Global Health. These experiences have given her an interdisciplinary perspective on climate and health research, and she hopes to highlight the voices of those most deeply impacted by environmental injustice during her time at PSR. In the future, she plans to attain an MD/MPH to address health inequities on a global scale as a physician and researcher.
We're beyond excited to work with Madeline, Hope-Marie, Kylie, and Shreya this summer. Stay tuned to check out the fantastic work they'll be producing for PSR!
On November 3 in Washington, DC, Physicians for Social Responsibility bestowed a Health Hero Award upon Tina Cordova, co-founder of the Tularosa Basin Downwinders Consortium. ...
On November 16, 218 mayors, city councilors, county and municipal officials and state legislators from around the United States delivered a letter to President Joe Biden...
Three important reports on climate change were issued recently – and the news isn't good. They found widespread impacts and more billion-dollar climate- and weather-related...