PSR Webinar: What can the Nuclear Weapons Abolition movement learn from other Social Justice Movements?
October 22, 2021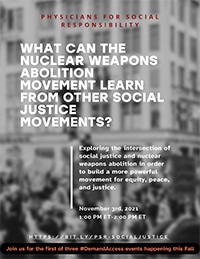 Exploring the intersection of social justice and nuclear weapons abolition in order to build a more powerful movement for equity, peace, and justice.
Wed. Nov. 3rd at 1:00 PM ET.
On November 3 in Washington, DC, Physicians for Social Responsibility bestowed a Health Hero Award upon Tina Cordova, co-founder of the Tularosa Basin Downwinders Consortium. ...
On November 16, 218 mayors, city councilors, county and municipal officials and state legislators from around the United States delivered a letter to President Joe Biden...
Three important reports on climate change were issued recently – and the news isn't good. They found widespread impacts and more billion-dollar climate- and weather-related...