PSR Webinar: What can the Nuclear Weapons Abolition movement learn from other Social Justice Movements?
October 22, 2021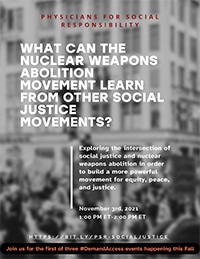 Exploring the intersection of social justice and nuclear weapons abolition in order to build a more powerful movement for equity, peace, and justice.
Wed. Nov. 3rd at 1:00 PM ET.
The gas stoves culture war heated up as Senators Ted Cruz (R-TX) and Manchin (D-WV) introduced legislation into Congress to bar the Consumer Product Safety...