PSR Takes Out Ad in President Biden's Hometown Newspaper Calling for a Sensible Nuclear Posture Review
January 21, 2022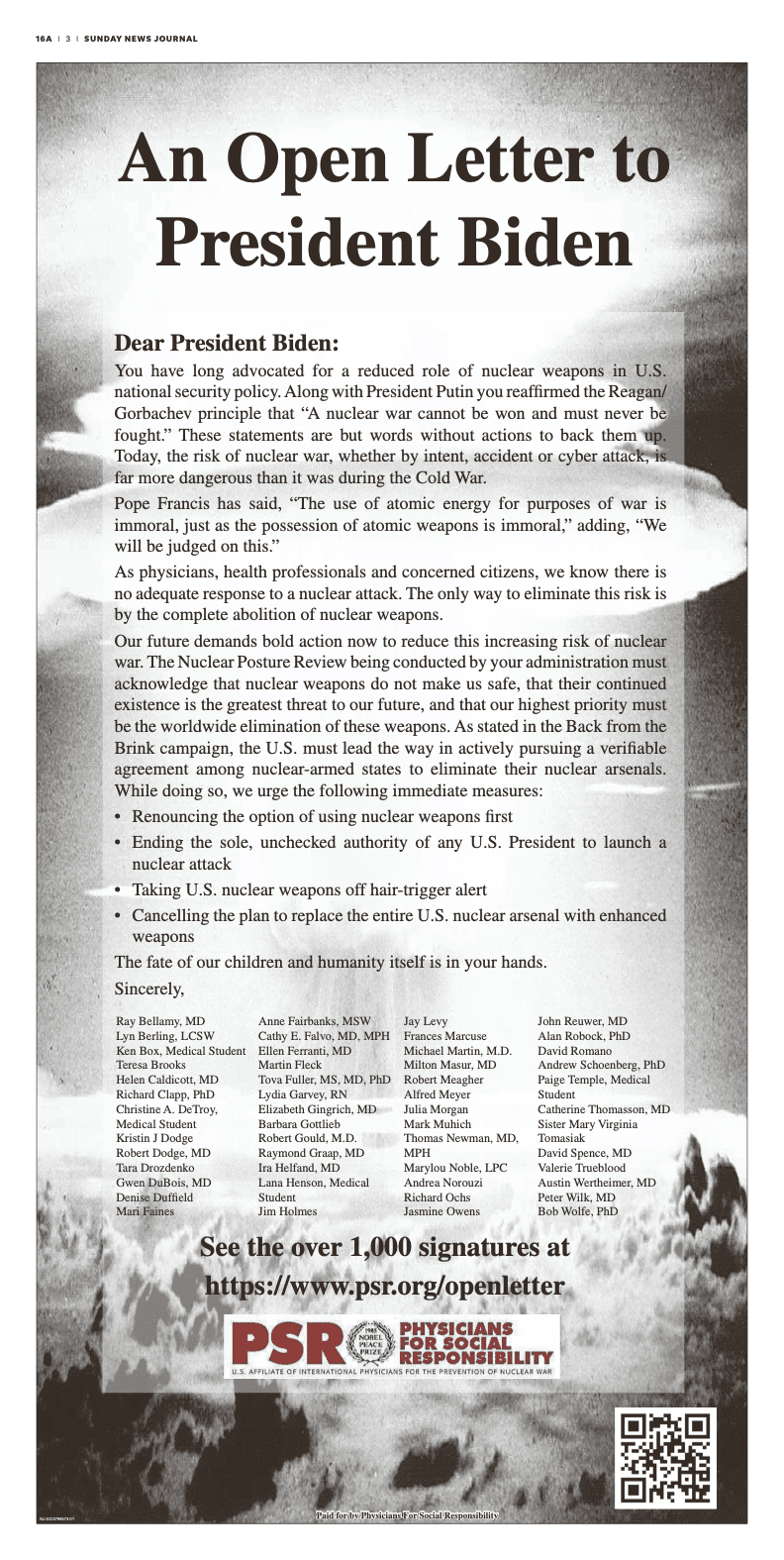 In an effort to influence President Biden to put out a sensible Nuclear Posture Review (the document that informs the public about the role nuclear weapons will play in a current president's term- or terms), PSR took out a full-page ad in Biden's hometown newspaper. On Sunday, January 2, the residents of Wilmington, Delaware opened their newspapers to an ad containing an open letter signed by over 1,000 citizens concerned with Biden's nuclear strategy.
The letter called for reducing the risk of nuclear war and included specific measures on how to do so:
Actively pursue a verifiable agreement among nuclear-armed states to eliminate their nuclear arsenals
Renounce the option of using nuclear weapons first
End the sole, unchecked authority of any U.S. President to launch a nuclear attack
Take U.S. nuclear weapons off hair-trigger alert
Cancel the plan to replace the entire U.S. nuclear arsenal with enhanced weapons
These actionable steps President Biden can take will indeed reduce the risk of nuclear war, with the end goal of nuclear abolition. Only then will we truly be safe from the threat of nuclear weapons.
On November 3 in Washington, DC, Physicians for Social Responsibility bestowed a Health Hero Award upon Tina Cordova, co-founder of the Tularosa Basin Downwinders Consortium. ...
On November 16, 218 mayors, city councilors, county and municipal officials and state legislators from around the United States delivered a letter to President Joe Biden...
Three important reports on climate change were issued recently – and the news isn't good. They found widespread impacts and more billion-dollar climate- and weather-related...