PSR Statement on the Dobbs Decision Overturning Roe v. Wade
June 27, 2022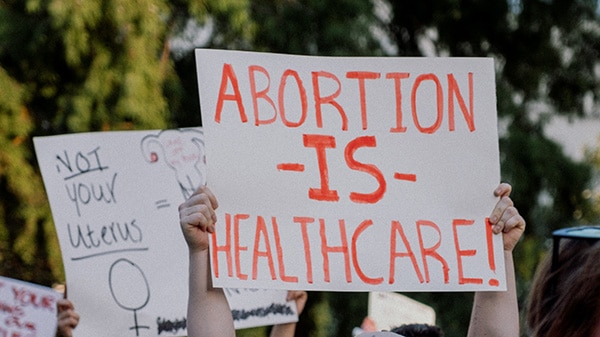 Last Friday, the United States Supreme Court ruled that each state may now create any laws it wishes to regulate or completely ban abortion services, overturning nearly 50 years of precedent created with the 1973 decision in Roe v. Wade.
PSR is not a reproductive health organization. Our mission is to mobilize health professionals to protect human life from the gravest threats to health and survival; our focus is on the threats posed by the development and use of nuclear weapons and the consequences of climate change and other environmental damage. As such, we have not taken positions on a vast array of other issues, including reproductive rights. Not because these issues are unimportant, or unimportant to our members, but so that we can focus on those core issues, leaving the matter of reproductive justice to other organizations and groups.
However, in recent years, our members have asked us to renew our justice-centered approach to the way we address our core issues, affirming that there can be no just solution to the climate crisis or the nuclear weapons threat unless we address the fundamental prejudices and injustices that led to the policies that established and perpetuate these threats.
With that in mind, we cannot stay silent in the wake of a decision that a vast majority of health professionals in this country have agreed will disproportionately and unjustly impact the health of poor and working people and people of color, and their families.
In addition, we are in solidarity with all health professionals dedicated to protecting the health and well-being of their patients; many of these health professionals may now be placed in a position of risking arrest and prosecution for providing that care.
We, therefore, stand with the countless public health leaders and organizations who are warning of the serious and inequitable health harms to come as a result of this decision:
Jack Resneck, Jr. M.D., President, American Medical Association
"The American Medical Association is deeply disturbed by the U.S. Supreme Court's decision to overturn nearly a half century of precedent protecting patients' right to critical reproductive health care — representing an egregious allowance of government intrusion into the medical examination room, a direct attack on the practice of medicine and the patient-physician relationship, and a brazen violation of patients' rights to evidence-based reproductive health services. States that end legal abortion will not end abortion — they will end safe abortion, risking devastating consequences, including patients' lives."
American Cancer Society
"As some states signal a determination to define personhood at fertilization, we are concerned about potential threats to a pregnant woman's ability to receive rapid cancer treatment. Every patient should be able to increase their likelihood to survive cancer by having the option to start cancer therapy immediately, regardless of pregnancy status."
Moira Szilagyi, MD, PhD, FAAP, president, American Academy of Pediatrics
"This decision carries grave consequences for our adolescent patients, who already face many more barriers than adults in accessing comprehensive reproductive healthcare services and abortion care."
APHA Executive Director Georges Benjamin, MD
"The Supreme Court's decision to overturn its nearly 50-year-old Roe v. Wade decision allowing a constitutional right to abortion is a catastrophic judicial failure that will reverberate differently in each state and portends to jeopardize the health and lives of all Americans."
Iffath A. Hoskins, MD, FACOG, president of the American College of Obstetricians and Gynecologists (ACOG)
"Allowing states to set individual restrictive abortion policies, including restrictions outright bans on this essential component of medical care, results in increased inequities that already plague the health care system and this country. These oppressive laws will force many people to face the known risks associated with continuing a pregnancy, including potential pregnancy-related complications and worsening of existing health conditions, as well as the morbidity and mortality associated with childbirth. The impact of this irresponsible decision will fall disproportionately on people who already face barriers accessing health care, including people of color, those living in rural areas, and those without ample financial resources."
Monica Valdes Lupi, Managing Director Health Program, Kresge
"It is already clear that Roe's abrupt end spells disaster for many Americans, especially for poor women and women of color who will bear a disproportionate share of the impact. There is already a vast health equity gap in this country, and we fully expect this divide to deepen and widen, particularly in the southern portion of the United States and in blue cities located in red states where highly restrictive abortion access is now lawful."
Lanterns afloat on Green Lake. Photo credit: Nancy Dickeman Do you think this would be a good moment to strengthen the "nuclear taboo"? You're not...