PSR Statement on the Escalating Nuclear Threat in Ukraine
October 19, 2022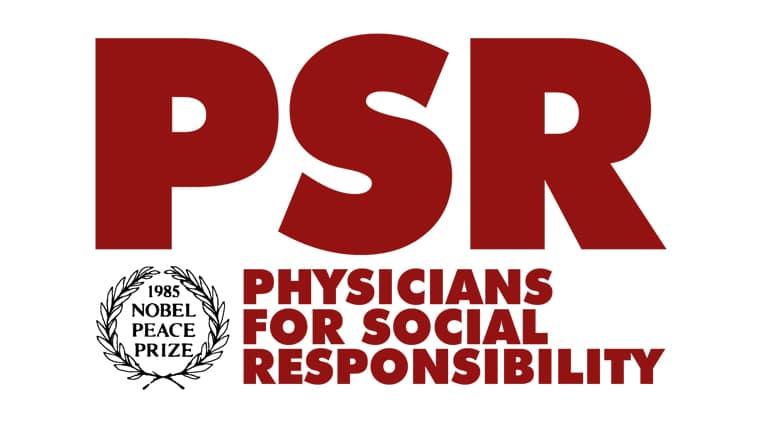 Physicians for Social Responsibility regrets having to make yet another condemnation of irresponsible actions by world leaders inching us closer and closer to a nuclear catastrophe. President Putin's repeated threats of nuclear weapons use while he prosecutes a brutal and widely condemned war in Ukraine is recklessly raising the stakes of that crisis. And for other nuclear-armed powers to carry on with business as usual, including conducting NATO nuclear warfighting drills such as "Steadfast Noon," is the wrong response. We implore world leaders to recognize the gravity of the situation, consider the ramifications of their decisions, and act accordingly. As we always have, PSR demands that all nuclear-armed countries keep their hands off the nuclear trigger. We also urge all parties involved in this conflict to proactively, soberly and swiftly de-escalate, negotiate a ceasefire and end hostilities.
Many experts agree that the risk of nuclear detonation has not been this high since the Cuban Missile Crisis. It is critical that we all understand that any use of nuclear weapons — tactical, "low-yield", or otherwise — would have catastrophic health impacts for the immediate victims and our collective future.
The International Red Cross started advocating for the total elimination of nuclear weapons in August 1945, as soon as the reports came in from their personnel in Hiroshima. Physicians for Social Responsibility has advocated for total elimination since its inception in 1962, with the motto of "prevention as the only cure." International health federations representing millions of health professionals have been declaring that the only policy that can protect public health from the nuclear weapons threat is to completely eliminate them, worldwide. There could be no clearer validation of that wisdom than what we see happening right now.
Moreover, this crisis makes it clear that the theory of nuclear deterrence in practice doesn't keep us safe, and actively contributes to our insecurity. It has not "kept the peace" and it is not currently keeping the peace. There are simply no situations in which using a nuclear weapon would be appropriate, ethical, or even legal.  
The prevailing nuclear status quo risks the lives of millions on the unpredictable whims of individual leaders, including not just President Putin, but the American president as well. This is not only incredibly dangerous, but also profoundly unjust — and it must come to an end. We cannot ensure safety and security for our communities as long as nuclear weapons exist, at the apex of an entire system of violence that extends to the local level. We cannot support thriving communities when we are threatening their very existence with these weapons.
People all over the world have already convinced their governments to get on the only path that will meaningfully safeguard our world against the threat of nuclear weapons: national governments of 68 nations have responded by signing and ratifying the Treaty on the Prohibition of Nuclear Weapons. That number is steadily rising. Now more than ever, we must be working to universalize this treaty, the only international agreement that has created an off-ramp for us to avoid ever risking nuclear armageddon again.
President Kennedy learned during the Cuban Missile Crisis that open communication is crucial to de-escalating a crisis and preventing a nuclear war. If the current situation worsens, Biden and world leaders must practice the same. In the event that prevention does fail, PSR urges President Biden and leaders around the world to keep as many communication lines open as possible.
Luck is the only reason we have come this far without a nuclear catastrophe, but one day that luck will run out. We must abolish nuclear weapons before that happens. Condemning Putin's threats is not enough. Americans should also demand that President Biden bring about an immediate end to the "Steadfast Noon" NATO exercise, remove American nuclear weapons from Europe, and have this be the LAST nuclear weapons exercise of its kind. Ever. No more playing games with our lives.
It is understandable that many Americans are focused on the actions of the Russian president — his threats, and devastation taking place in Ukraine. But this momentous historical moment requires Americans to demand more from our leaders as well. The overwhelming threats the world faces can seem so insurmountable as to be hopeless, but if we put our anger, our anxiety, and our disillusionment toward productive rather than destructive tendencies in our own lives, it's not only possible but probable to envision a better, non-nuclear future for our loved ones and our planet.
On November 15, PSR held our virtual annual gala, featuring guest speaker Anna Ikeda of Soka Gakkai International and a special Q and A with...