PSR on military spending: time to change the status quo
April 26, 2021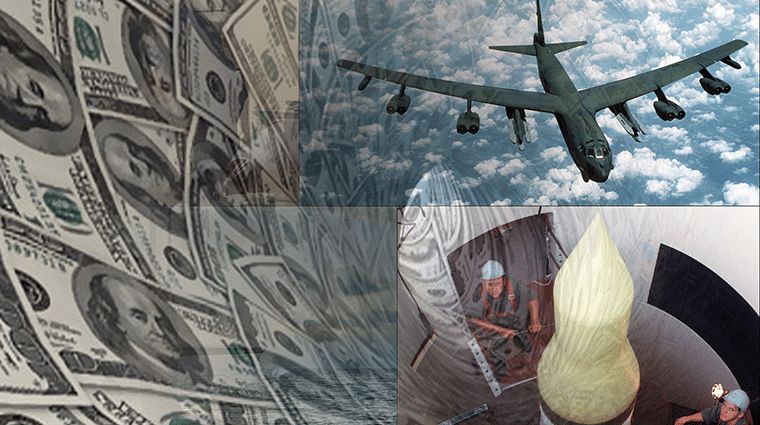 The Biden administration released an overview "budget blueprint" on April 9, and it was a disappointment. PSR takes exception to many particular items that will likely be included in the full budget, expected in late May, and we intend to challenge the "topline" military spending numbers.  President Trump took military spending to a very high plateau ($740 billion in fiscal year 2021, $84 million per hour, more than the next 10 nations combined). Biden appears poised to carry these absurd military numbers forward.  Indeed, the "blueprint" pegged military spending even higher- $753 billion. PSR will need your to help to bring that number down before the budget becomes law.
Nuclear weapons in the budget
PSR advocates for fundamental changes to nuclear weapons policy.  We support a Back from the Brink initiative to get city councilors, county commissioners, state legislators, and other local, county, and state officials to sign onto an open letter to President Biden and Congress asking the U.S. to actively pursue a verifiable agreement among all nuclear-armed states to eliminate their nuclear arsenals. Consistent with that, we advocate for minimizing spending on nuclear weapons while negotiations are underway.
In contrast, Biden's "budget blueprint" indicates his administration plans to keep President Trump's full-scale nuclear weapons spending binge essentially on track. PSR fully supports legislation introduced by Senator Ed Markey (Massachusetts) and Representative Ro Khanna (California)  to redirect $1 billion slated for the "Ground Based Strategic Deterrent" missile–a.k.a. the "Money pit missile" — to something much more relevant to public safety: research into a universal vaccine to combat coronaviruses like Covid-19.  They named their bill the "ICBM Act" — "Invest in Cures Before Missiles". PSR and other GBSD opponents find ourselves up against the very strong "ICBM lobby" in the states that host land-based missiles.  Read the pros and cons of the GBSD here and here. Urge your U.S. representative to sponsor Khanna's ICBM act.
PSR also supports a bill introduced by Senator Chris Van Hollen (Maryland) and Representative Joe Courtney (Connecticut) to de-fund work on a brand new, nuclear-armed Sea Launched Cruise Missile (SLCM). Courtney is Chair of the House Armed Services Subcommittee on Seapower and Projection Forces. Way back in 1991, President George H.W. Bush pulled nuclear weapons off of every Navy ship except the ballistic missile submarines. Why would Biden want to put them back? Read more about the SLCM here.
Bringing the topline military numbers down
Following upon PSR's work in 2020 to "redefine security" and promote a 10% cut to the topline military budget (exempting military pay and benefits), for 2021 PSR Nuclear Weapons Abolition Program is embarking on a more ambitious effort to draw health professionals into the budget debate, specifically referencing the pandemic and the need to improve public health in the USA. Our allies in this work include Public Citizen, Win Without War, People Over Pentagon and the Poor People's Campaign. Please be ready to dive into this year's struggle to rein in out-of-control military spending.
Congressional leadership to challenge the status quo
Senator Elizabeth Warren (Massachusetts) and Rep. Adam Smith, Chair of House Armed Services Committee, reintroduced their No First Use legislation to establish a No First Use policy for nuclear weapons. Representatives Barbara Lee (California) and Mark Pocan (Wisconsin) launched the new Defense Spending Reduction Caucus to build support for topline cuts in Congress. Senator Bernie Sanders (Vermont), who introduced legislation for a 10% cut in the Senate last year,  brings new authority to the debate as Chair of the Senate Budget Committee.
Representative Don Beyer (Virginia) has thrown his hat in the ring with those seeking to change the status quo. He was the driving force behind the new, bicameral congressional Nuclear Weapons and Arms Control Working Group. Beyer's co-chair in the House is John Garamendi (California) and co-chairs in the Senate are Jeff Merkley (Oregon) and Ed Markey (Massachusetts). 3 Senators and 31 Representatives joined these four to sign onto an April 20 letter to President Biden stating "we urge your Administration to take steps that will reduce, and someday eliminate, the existential threat that these weapons of mass destruction pose."
Lanterns afloat on Green Lake. Photo credit: Nancy Dickeman Do you think this would be a good moment to strengthen the "nuclear taboo"? You're not...