PSR heads to Atlanta for a nuclear undergraduate workshop
April 21, 2023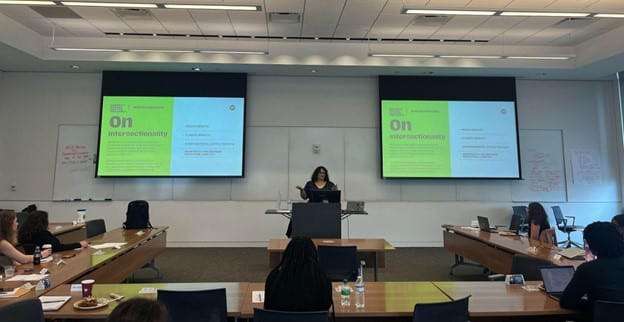 On April 14-15, Jasmine Owens, PSR's Nuclear Weapons Abolition Associate Director, headed to Atlanta, Georgia for a workshop hosted by the Truman Center to engage undergraduate students on nuclear weapons issues and showcase the many career paths available to them in this work. Jasmine was invited to give a presentation to the students on the importance of intersectionality, organizing and advocacy in the nuclear abolition movement.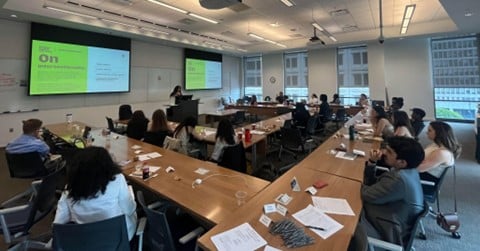 The workshop began in the late afternoon on Friday the 14th, with welcome remarks from Jon Temin, Vice President of Policy and Programs at the Truman Center and a crash course introduction of nuclear nonproliferation from Professor Daniel Altman from Georgia State University. The following day, the students heard presentations assessing and critiquing the role of deterrence theory, the impacts of gender equity/representation in the field, and Jasmine's presentation on organizing for nuclear abolition with an intersectional framework.
The students were exposed to a wide array of perspectives on nuclear weapons issues, and expressed genuine interest and passion for getting involved in the movement to abolish nuclear weapons. Jasmine noted that, "It's moments like this when I'm actually engaging in on the ground intersectional organizing, listening to the boundless curiosity of these students, that I am filled with so much hope for the future and our ability to manifest a world free of nuclear weapons. We can't do it alone, and we need to engage the youth because new innovative and creative approaches to nuclear abolition are coming from them."
On November 3 in Washington, DC, Physicians for Social Responsibility bestowed a Health Hero Award upon Tina Cordova, co-founder of the Tularosa Basin Downwinders Consortium. ...
On November 16, 218 mayors, city councilors, county and municipal officials and state legislators from around the United States delivered a letter to President Joe Biden...
Three important reports on climate change were issued recently – and the news isn't good. They found widespread impacts and more billion-dollar climate- and weather-related...