PSR Chapters Focus on Nuclear Weapons in August Recess Meetings
August 23, 2019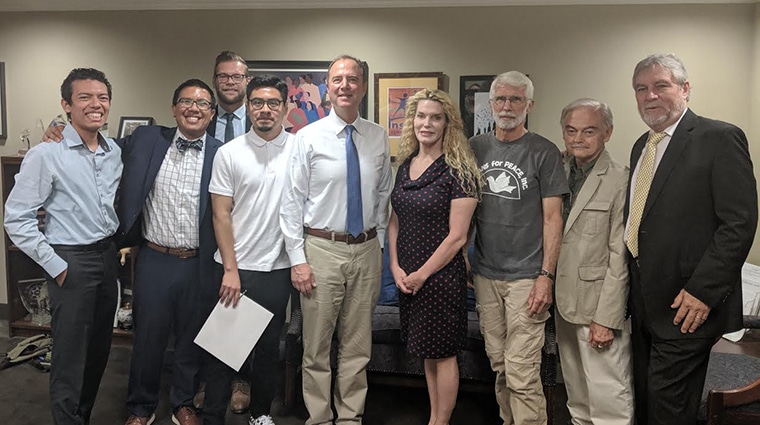 On August 6, activists from PSR Los Angeles, Beyond the Bomb, Nuclear Free Schools, Vets for Peace, and Peace Action, met with Representative Adam Schiff, Chair of the Permanent Select Committee on Intelligence, to discuss Representative Adam Smith's No First Use legislation (H.R. 921). The bill simply states it is the policy of the United States not to use nuclear weapons, unless the United States or our treaty allies are attacked with nuclear weapons first. This meeting with Schiff fell on the 74th anniversary of the bombing of Hiroshima, a sobering reminder of the horrors that nuclear weapons can unleash.
"For many of us, not only do we oppose the first use of nuclear weapons but the second as well, given the ensuing escalation and human cost," says Denise Duffield, Associate Director of PSR-LA, "[In the meeting] I talked about the Nuclear Famine Report, explaining the damage, impacts on climate, and famine that would result from just 100 Hiroshima-sized bombs."
At  the meeting, Representative Adam Schiff agreed to cosponsor Adam Smith's No First Use legislation. In his own statement about the meeting, Representative Schiff said, "It's important to make clear that nuclear weapons and the power they wield to destroy the world as we know it should not be considered as just another weapon. I appreciate the advocacy of my constituents as we work towards our shared vision of a peaceful nuclear free future."
PSR-LA wasn't the only PSR chapter that met with policy makers. PSR activists were hard at work setting up constituent meetings in California, Massachusetts, Iowa, Arizona, Maine, and Washington. All these meetings revolved around a similar message: No First Use is a crucial first step on the path towards complete and total disarmament.
As the August congressional recess comes to a close and Congress prepares to negotiate a 733 billion dollar defense bill, PSR urges lawmakers on both sides of the aisle to commit to improve global stability while reinforcing the United States' commitment to global disarmament. PSR remains committed to creating, as Representative Adam Schiff put it, "a shared vision of a peaceful nuclear free world", and our advocates will continue to communicate the urgency of this work to congressional offices across the country.
PSR's Gas Stove PSA campaign wraps up with two new animated videos. The fourth in our campaign focuses on clean energy and electrification wins around...