PSR Celebrates Entry Into Force of the Treaty on the Prohibition of Nuclear Weapons
January 22, 2021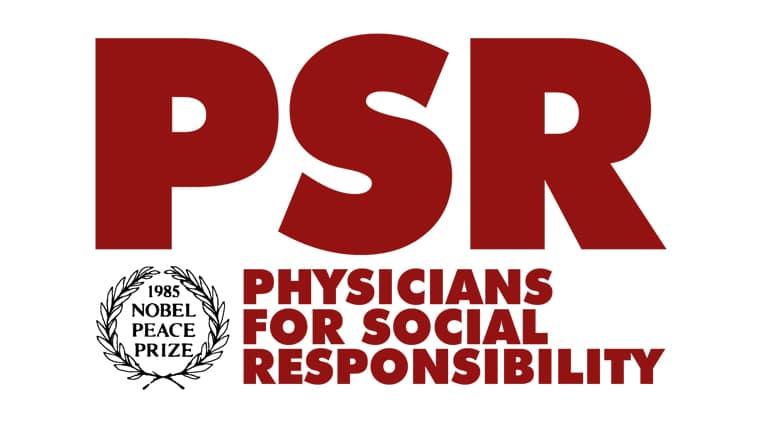 Today, Physicians for Social Responsibility celebrates entry-into-force of the new Treaty on the Prohibition of Nuclear Weapons (TPNW).  This treaty changes the legal status of nuclear weapons in international law, and marks a historic milestone for a decades-long, intergenerational movement to abolish nuclear weapons. The TPNW was adopted by 122 nations at the UN in 2017, and to date has been signed by 86 nations and ratified by 51 of them. Total elimination is the only responsible medical response to the threat posed by nuclear weapons. Any use of nuclear weapons would be a catastrophic humanitarian disaster.
PSR is one of 590 Partner Organizations in 103 nations that comprise the International Campaign to Abolish Nuclear Weapons (ICAN), recipient of the Nobel Peace Prize in 2017 for its work to promote this treaty. During treaty negotiations, PSR fielded several delegations who worked with ICAN and met with UN diplomats to advocate for the new treaty.
Statements from PSR personnel:
"Today PSR congratulates ICAN, its partner organizations, and the 51 nations that have ratified this treaty for their collective role as change agents creating a historic shift in our perceptions of nuclear weapons. We look forward to shaking up the complacency of the United States, and we encourage incoming President Biden to move our country toward total elimination of nuclear weapons."   — Jeff Carter, PSR Executive Director
"On this day, the world has established a new international norm wherein nuclear weapons are now illegal. It is time the United States moved back from the brink of nuclear war and lead a global effort to actively pursue a verifiable agreement among nuclear nations to eliminate their arsenals."  — Tova Fuller, MD, PhD, Vice President, San Francisco Bay Area PSR
"The TPNW is a real win for planetary health. This is a clear message from nations across the globe that nuclear weapons threaten the survival of all humanity and must be eliminated before they eliminate us."  — Ira Helfand, MD, PSR Board member and IPPNW Co-President
"This momentous occasion demonstrates that a tidal change in nuclear weapons policy is not only possible, it is inevitable if we continue to persevere, organize, and do all that each of us can to grow the movement for nuclear abolition."   — Denise Duffield, Associate Director, PSR-Los Angeles
"The TPNW provides a bold vision for a more just and sustainable future. As long as nuclear weapons exist, they pose an existential threat to all life on this planet. The TPNW sends a clear message that civil society craves true peace & that we refuse to be dragged into nuclear war and nuclear famine at the hands of the powerful few."   — Allen Hester, Grassroots Coordinator, PSR Nuclear Weapons Abolition Program
Millions of health professionals worldwide support the TPNW as a public health imperative, represented by PSR, our international affiliate International Physicians for the Prevention of Nuclear War (IPPNW), the International Committee of the Red Cross, International Council of Nurses, International Federation of Medical Student Associations (IFMSA), World Federation of Public Health Associations and the World Medical Association.
Under the Nuclear Nonproliferation Treaty of 1970, all signatories, which is most of the nations of the world, are already obligated to pursue general and complete nuclear disarmament. The Treaty on the Prohibition of Nuclear Weapons provides a specific and clear path forward.
####
On November 3 in Washington, DC, Physicians for Social Responsibility bestowed a Health Hero Award upon Tina Cordova, co-founder of the Tularosa Basin Downwinders Consortium. ...
On November 16, 218 mayors, city councilors, county and municipal officials and state legislators from around the United States delivered a letter to President Joe Biden...
Three important reports on climate change were issued recently – and the news isn't good. They found widespread impacts and more billion-dollar climate- and weather-related...