PSR Announces Brian Campbell, PhD, as Next Executive Director
November 1, 2023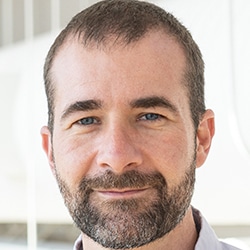 We are pleased to announce that Brian Campbell, PhD, has accepted the offer to serve as PSR's next Executive Director, effective November 1, 2023.
Brian most recently served as Executive Director of the Iowa Environmental Council, a coalition of over 100 environmental groups focused on local, state, and federal policy. There, he led the development and implementation of a new strategic plan centered on climate change and environmental justice, along with the integration of diversity, equity, inclusion, and justice into organizational policies and culture.
Prior to this role, Brian had a career in higher education, with an academic focus on the history and culture of American environmentalism, especially the values and stories that motivate activism. Brian has collaborated with health professionals and environmental justice partners to elevate the voices of diverse communities impacted by climate change and other environmental health threats. He co-produced the podcast, Mid-Americana: Stories from a Changing Midwest, which included stories of Marshall Islands refugees in Iowa, displaced by sea level rise and exposure to radiation from U.S. nuclear testing.
"I am excited to lead Physicians for Social Responsibility in addressing the existential challenges of climate change and nuclear weapons abolition, and I am especially impressed with PSR's deep commitment to health, equity, and justice," says Campbell. "After a summer of deadly wildfires and extreme heat, and escalating conflicts in Ukraine and the Middle East, PSR's mission is more urgent now than ever. I am humbled and honored to join you in this important work."
Brian holds a Ph.D. in American Religious Cultures with an Environmental Humanities focus from Emory University (Atlanta, GA), a Master of Divinity from the Pacific School of Religion (Berkeley, CA), and a B.A. in Religion from Davidson College (Davidson, NC). He grew up on the Alabama Gulf Coast and in the mountains of Western North Carolina. Brian and his family have lived in Des Moines, Iowa since 2014, where he enjoys baking bread, playing soccer, and exploring the outdoors.
Please join us in welcoming Brian to the PSR community. Brian's profile will be available on PSR's website soon.
Sincerely,
Todd Sack, MD, FACP
President, PSR Board of Directors
Michael Martin, MD, MPH, MBA
Immediate Past President, PSR Board of Directors, and Transition Committee Chair
W. Taylor Carneiro-Johnson, MFA, DLS
Interim Executive Director [Director of Operations, Administration & Finance]
CONTACT: Isabella Javidan , ijavidan@psr.org , 612-812-3231 Physicians for Social Responsibility (PSR) expresses deep distress over reports–including from the spokesperson for the Ministry of Health...
160 Million Pounds of Undisclosed Chemicals Could be PFAS; Groups Call for Ban on PFAS Use in Oil and Gas Wells For more information, contact:...
Hon. Josh ShapiroGovernor of Pennsylvania508 Main Capitol BuildingHarrisburg, PA 17120 Hon. Joe PittmanMajority Leader, Pennsylvania SenateSenate Box 203041Harrisburg, PA 17120-3041 Hon. Joanna E. McClintonSpeaker, Pennsylvania House...