President Biden reached out swiftly to Russia to extend the New START Treaty before it expired. Please thank him.
February 10, 2021
This action alert is no longer active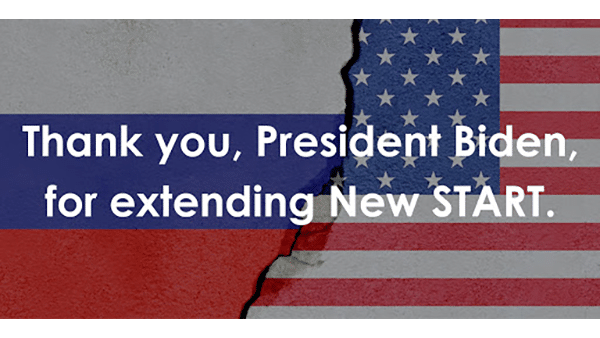 President Biden officially extended the New START treaty with Russia on February 3, only days before the treaty between the two countries was set to expire. New START was the last remaining arms control treaty between Washington and Russia after the Trump administration withdrew from two others. The treaty has now been extended for 5 years. We want to thank President Biden for prioritizing nuclear arms control within his first month of taking office.
As the country continues to fight to overcome the health and economic challenges of Covid-19, the path forward is clear. We need to re-think our whole approach to 'security,' put resources toward the current health threat and reduce our reliance on nuclear weapons. We need masks, not missiles. We need vaccines, not submarines. We need health care, not warfare.
PSR will continue to push for vitally important changes in U.S. nuclear policy, both to reduce the risks of inadvertent or accidental nuclear war and to redirect nuclear weapons spending toward investments that help people. And we will continue to advocate for the total elimination of nuclear weapons, everywhere. The incoming Biden administration should lead negotiations that move us toward a nuclear-weapons free world. But for now, let's appreciate Joe Biden's rapid action to preserve the last remaining nuclear arms control treaty between the world's nuclear superpowers.
This action alert is no longer active Photo: Max Nossin / CC BY 3.0 On May 17, President Biden will depart the United States, headed...