Physicians Group Warns Air Pollution from Oil and Gas Extraction May Increase Rates of COVID-19 Infections and Deaths
January 28, 2021
FOR IMMEDIATE RELEASE
CONTACT: Barbara Gottlieb | bgottlieb@psr.org
New Report from Physicians for Social Responsibility Found Higher Rates of COVID-19 Cases in Some New Mexico, Colorado Counties with High Levels of Oil and Gas Drilling
Group Celebrates Biden's Decision to Suspend Oil and Gas Drilling on Federal Land, Calls for Permanent Ban
Urges Additional Research Into Impact of Oil and Gas Air Pollution on COVID Infection Rates and Outcomes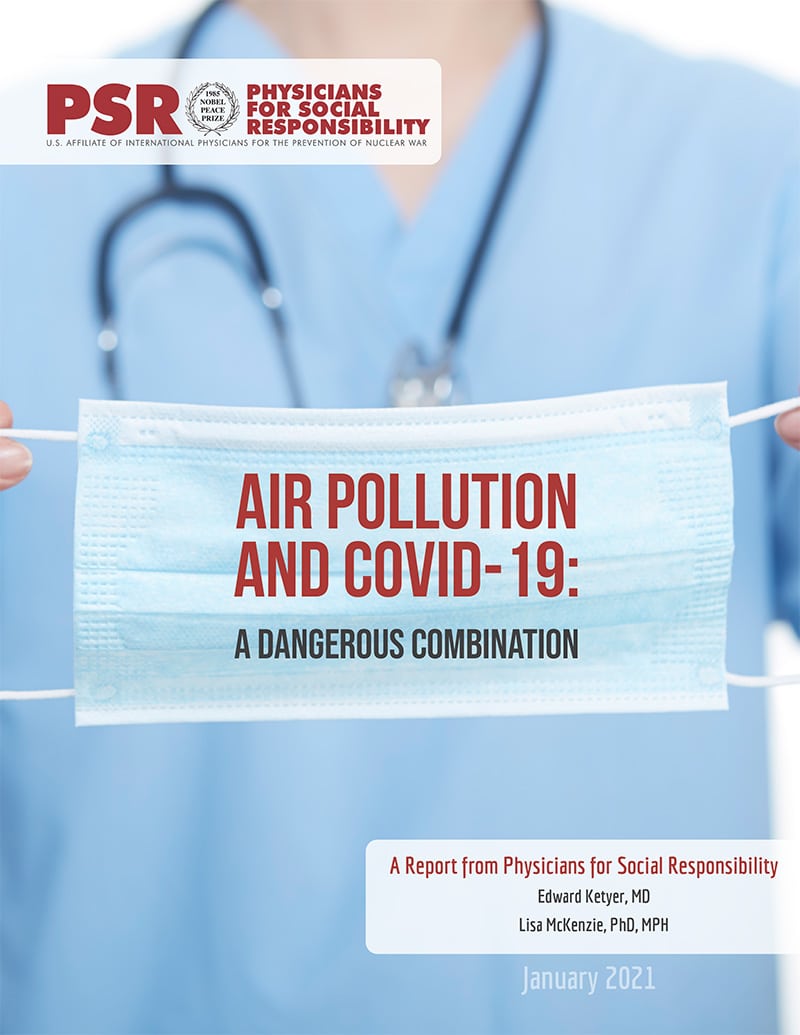 WASHINGTON, DC — According to a new report, Air Pollution and Covid-19: A Dangerous Combination, exposure to air pollution from oil and gas extraction and processing could potentially increase rates of infection and death from COVID-19. The report, released today by Physicians for Social Responsibility, examined ten counties in Colorado and New Mexico with significant oil and gas operations and found higher rates of COVID-19 cases than expected in 60% of those counties.
Specifically, the report found that:
In Colorado, the number of COVID-19 cases was higher than expected in three counties and lower than expected in two. The number of cases was disproportionately high among people aged 20-29 years and Hispanics. More COVID-19 deaths were observed than expected in Adams, Broomfield, and Weld Counties – counties that experienced high levels of oil and gas development in 2020.
In New Mexico, the number of COVID-19 cases was higher than expected in three counties and lower than expected in two. Disproportionately high levels of cases were observed among people aged 20-49 years and Native Americans. Higher numbers of deaths from COVID-19 than expected were found in one county and lower than expected in four.
"In the past four years, we've seen the Interior Department sell off oil and gas leasing rights on our public lands, increasing methane emissions and air pollution. We are encouraged by President Biden's Executive Order to pause new fossil fuel leasing on federal public lands. This decision is not only critical to addressing climate change and ending the US dependence on fossil fuels, but could significantly improve public health," explained Barbara Gottlieb, Director for Environment and Health at Physicians for Social Responsibility.​ 
"Evidence is mounting up that air pollution increases the risk of getting a respiratory virus, and we're concerned by these indications that pollution from oil and gas operations could increase infections and deaths from COVID-19. The obvious conclusion is that, to protect people from COVID-19, we need to reduce air pollution from all sources."
Report coauthor Edward Ketyer, MD, reinforced that message, saying, ​ "As the COVID-19​ pandemic continues to unfold, the role air pollution plays in exacerbating this public health crisis is becoming increasingly apparent. There is growing evidence that air pollution worsens the prognosis in people with chronic lung disease, heart disease, hypertension, diabetes, and other chronic health problems by increasing the risk of poor outcomes from COVID-19. 
"Every step should be taken to reduce air pollution, especially from oil and gas operations that add to the burden of bad air quality and disease, and especially now during this terrible pandemic."
The report builds on recent analysis from the Harvard T.H. Chan School of Public Health which indicated that exposure to even small increases in long-term fine particle pollution (PM 2.5) is associated with an increase in the death rate from COVID-19. The researchers underscored the importance of enforcing existing regulations that limit air pollution in order to protect public health during and after the pandemic. Another study from the Georgia State University Andrew Young School of Policy Studies also found a relationship between PM 2.5 exposure and disease and death from COVID-19.
Report co-author Lisa McKenzie, PhD MPH, called for further research, saying, "Future​ studies that can evaluate individual level characteristics, COVID outcomes, and air pollutant exposures from several sources could increase the understanding of the impact of air pollutant exposures on COVID outcomes."
In a letter to President Joe Biden, the physicians group warned that more research was needed to fully understand the link between air pollution from oil and gas drilling and COVID-19 infection rates and outcomes, and urged the Administration to prioritize that research. The group also recommended that Biden continue to take steps to reduce pollution and emissions from oil and gas drilling, including making the leasing pause permanent.
# # # # #
We are pleased to announce that Brian Campbell, PhD, has accepted the offer to serve as PSR's next Executive Director, effective November 1, 2023. Brian...
CONTACT: Isabella Javidan , ijavidan@psr.org , 612-812-3231 Physicians for Social Responsibility (PSR) expresses deep distress over reports–including from the spokesperson for the Ministry of Health...
160 Million Pounds of Undisclosed Chemicals Could be PFAS; Groups Call for Ban on PFAS Use in Oil and Gas Wells For more information, contact:...