Physicians Group Uncovers Evidence that 'Forever Chemicals' (PFAS) Have Been Used Extensively in Fracking Unbeknownst to Public
July 12, 2021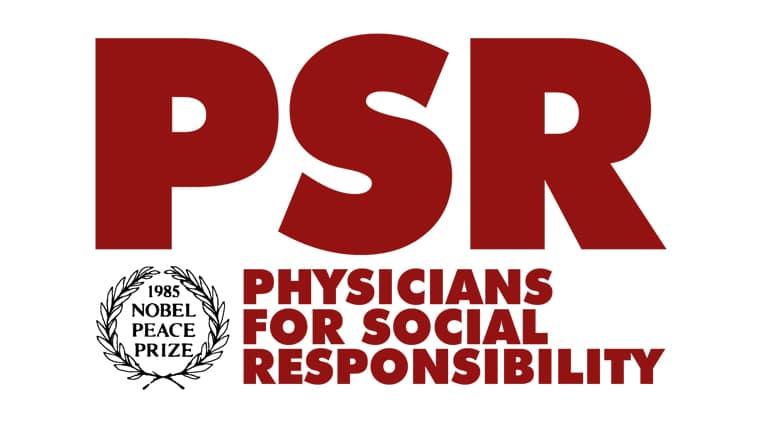 FOR IMMEDIATE RELEASE
CONTACT: Barbara Gottlieb | bgottlieb@psr.org | 301-806-6826
New Report from Physicians for Social Responsibility Indicates PFAS Use in Fracking in More than 1,200 Wells in Arkansas, Louisiana, Oklahoma, New Mexico, Texas, Wyoming between 2012 and 2020
Broader Geographic Use is Possible, but Confidentiality Claims by Chemical and Drilling Companies Prevent Full Investigation; Exxon, Chevron Among the Companies Using Chemicals Identified as PFAS or Potential PFAS
EPA Approved a Chemical for Use in Oil and Gas Extraction Despite PFAS Concerns and Link to PFAS Polluter Dupont
Washington, DC – A new report, released today by Physicians for Social Responsibility (PSR), presents evidence that oil and gas companies including ExxonMobil and Chevron have used per- and polyfluoroalkyl substances (PFAS), and/or substances that can degrade into PFAS, in hydraulic fracturing ("fracking") for oil and gas in more than 1,200 wells in six U.S. states between 2012 and 2020.
The report also notes that, due to the lack of full disclosure concerning chemicals used, PFAS could have been used in additional states and in drilling and other extraction techniques that precede the underground injections known as fracking.
PFAS have been linked to cancer, birth defects, pre-eclampsia, and other serious health effects. Toxic in minuscule concentrations, they accumulate inside the human body and do not break down in the environment – hence their nickname, "forever chemicals."
Evidence related to the use of PFAS or PFAS precursors in oil and gas operations has not been previously publicized.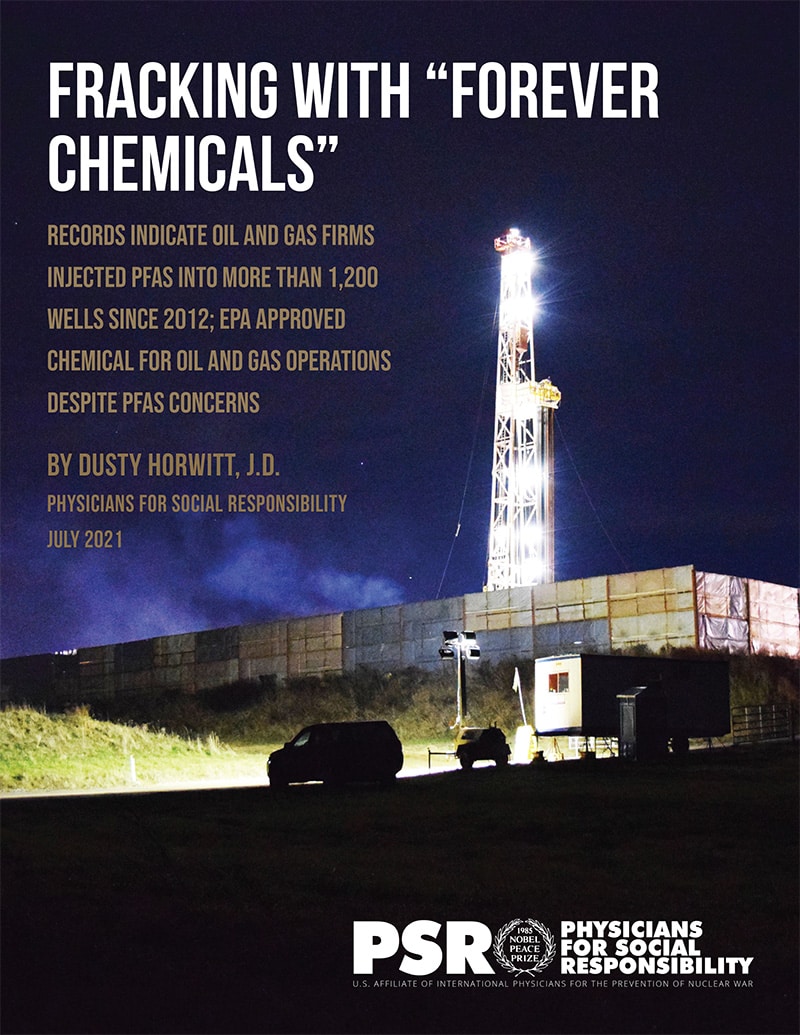 The report, Fracking with "Forever Chemicals," also documents the U.S. Environmental Protection Agency (EPA)'s approval of three chemicals for use in oil and gas drilling and/or fracking, despite EPA's written observation that the chemicals could degrade into substances similar to PFOA, the most infamous PFAS, highlighted in the 2019 feature film Dark Waters. EPA regulators wrote,
EPA has concerns that these degradation products will persist in the environment, could bioaccumulate or biomagnify, and could be toxic (PBT) to people, wild mammals, and birds based on data on analog chemicals, including PFOA and [REDACTED].
One of these chemicals was used commercially for unspecified purposes as recently as 2018, according to EPA records.
On Monday, July 12 at noon Eastern time, Physicians for Social Responsibility will host a webinar where report findings will be presented. Speakers will be:
Dusty Horwitt, author, researcher and attorney. Horwitt, now consulting for PSR, has researched chemical use in the oil and gas industry for over a decade. His reports and investigations have received media coverage in the New York Times, Dallas Morning News, Pittsburgh Post-Gazette, Charleston Gazette, and ProPublica.
Linda Birnbaum, board-certified Ph.D. toxicologist and former director of the National Institute of Environmental Health Sciences.
Silverio Caggiano, recently retired Battalion Chief and hazardous materials expert with the Youngstown, Ohio fire department.
Wilma Subra, Louisiana-based chemist and MacArthur Foundation "Genius" award winner who has spent decades working to protect people from oil- and gas-related pollution.
Representatives of the press will have the opportunity to direct questions to the speakers.
"The evidence that people could be unknowingly exposed to these extremely toxic chemicals through oil and gas operations is disturbing," said Horwitt. "Considering the terrible history of pollution associated with PFAS, EPA and state governments need to move quickly to ensure that the public knows where these chemicals have been used and is protected from their impacts."
"It's very disturbing to see the extent to which critical information about these chemicals is shielded from public view," added Barbara Gottlieb, PSR's Environment & Health Program Director. "The lack of transparency about fracking chemicals puts human health at risk." "PFAS have negative health effects, including cancer, that encompass virtually every system in the human body: the immune system, our reproductive systems, the liver, kidneys," stated Birnbaum. "The potential that these chemicals are being used in oil and gas operations should prompt regulators to take swift action to investigate the extent of this use, pathways of exposure, and whether people are being harmed."
"Fire departments are scrambling to get rid of firefighting foam with PFAS in it because EPA says it's toxic," said Caggiano, who retired in June 2021 and has trained with fire-fighting foam that contains PFAS. "So if it's too dangerous for us to use, why should oil and gas companies get to use it?" Youngstown is located near oil and gas production wells and underground injection disposal wells where oil and gas companies inject wastewater from their operations for permanent disposal.
"There's a potential for [PFAS] to contaminate a huge amount of water or soil or sediment if it were to spill on the surface," Subra noted. "It doesn't take much to be present in those media to be a threat to health."
The report is available to be downloaded at www.psr.org/frackingchemicals.
We are pleased to announce that Brian Campbell, PhD, has accepted the offer to serve as PSR's next Executive Director, effective November 1, 2023. Brian...
CONTACT: Isabella Javidan , ijavidan@psr.org , 612-812-3231 Physicians for Social Responsibility (PSR) expresses deep distress over reports–including from the spokesperson for the Ministry of Health...
160 Million Pounds of Undisclosed Chemicals Could be PFAS; Groups Call for Ban on PFAS Use in Oil and Gas Wells For more information, contact:...