Physicians for Social Responsibility Opposes War with Iran
May 21, 2019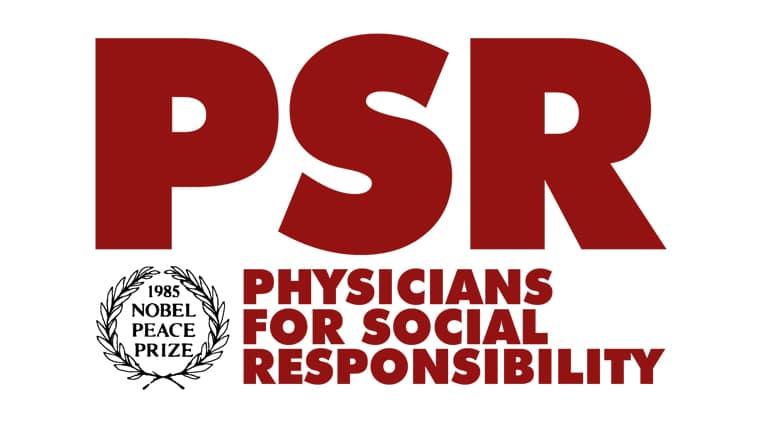 FOR IMMEDIATE RELEASE
Press Contact:
Olivia Alperstein, (202) 587-5232
oalperstein@psr.org
Washington, D.C. —  In light of recent statements by National Security Advisor John Bolton and others in the Trump administration and military regarding potential escalation of a conflict with Iran, Physicians for Social Responsibility issued the following comment:
As an organization of medical and health professionals and advocates who mobilize on the greatest threats to human health and survival, Physicians for Social Responsibility (PSR) unequivocally opposes any attempt to escalate conflict or engage in war with Iran. The United States and Iran both have a vested interest in avoiding war. Declaring war is the purview of Congress, and PSR urges all Members of Congress to exercise their solemn duty to protect our nation's interests and prevent war with Iran.
"There is a clear, necessary path to preserve peace between our nations, one that has advanced and will continue to advance key progress: both nations must continue to actively engage in dialogue, with open diplomatic communications channels and the mutual aim to prevent any further escalation of conflict," said Jeff Carter, Executive Director of Physicians for Social Responsibility. "An unjustified war with Iran would lead us down the same futile, destructive path of the wars in Iraq and Afghanistan. President Donald Trump has publicly indicated that he does not want to declare war, and we urge him to maintain that stance."
"This senseless war must be prevented," said Gwen DuBois, MD, MPH, President of Chesapeake Physicians for Social Responsibility. "Physicians for Social Responsibility calls on Congress to prevent President Trump and John Bolton from initiating or fomenting a war with Iran, in which likely hundreds of thousands if not a million or more people would die, as in Iraq, from the indirect consequences of war—such as infections and the collapse of the healthcare system. When a nuclear-armed country like the United States is involved, there is always a chance that conventional war could escalate into a nuclear war, with millions of deaths, nuclear winter and mass starvation."
Martin Fleck, PSR's Nuclear Weapons Abolition Program Director, said: "How on earth does this administration think that we can improve national security by provoking Iran to accelerate its nuclear weapons program? This makes no sense. PSR supported the original Joint Comprehensive Plan of Action, and we encourage Iran to continue to comply with the JCPOA and for the United States to re-enter it."
###
About Physicians for Social Responsibility
PSR is a nonprofit organization representing medical and health professionals and concerned citizens, with approximately 40,000 members and supporters and with chapters in major cities and medical schools throughout the United States. PSR has been working for more than 55 years to create a healthy, just and peaceful world for both present and future generations. Learn more at www.psr.org and follow us on Facebook and Twitter.
We are pleased to announce that Brian Campbell, PhD, has accepted the offer to serve as PSR's next Executive Director, effective November 1, 2023. Brian...
CONTACT: Isabella Javidan , ijavidan@psr.org , 612-812-3231 Physicians for Social Responsibility (PSR) expresses deep distress over reports–including from the spokesperson for the Ministry of Health...
160 Million Pounds of Undisclosed Chemicals Could be PFAS; Groups Call for Ban on PFAS Use in Oil and Gas Wells For more information, contact:...