Physicians for Social Responsibility celebrates 50th ratification of the Treaty on the Prohibition of Nuclear Weapons
October 24, 2020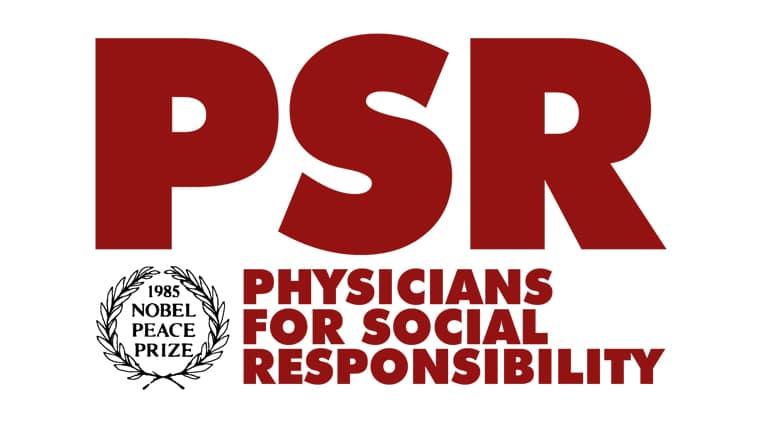 FOR IMMEDIATE RELEASE
Today Honduras deposited instruments of ratification for the Treaty on the Prohibition of Nuclear Weapons (TPNW), putting total ratifications at 50 and clearing the way for the Treaty to officially enter into force 90 days hence. This treaty changes the legal status of nuclear weapons in international law, and marks a historic milestone for a decades-long, intergenerational movement to abolish nuclear weapons. Physicians for Social Responsibility congratulates all of these 50 forward-thinking nations for successfully challenging the status quo and lighting up the path toward a nuclear weapons-free world.
PSR is one of 590 Partner Organizations in 103 nations that comprise the International Campaign to Abolish Nuclear Weapons (ICAN), recipient of the Nobel Peace Prize in 2017 for its work to promote this treaty. During treaty negotiations, PSR fielded several delegations who worked with ICAN and met with UN diplomats to advocate for the TPNW.
Total elimination is the only appropriate medical response to nuclear weapons by virtue of their humanitarian impacts, including climate impacts that could trigger 'nuclear famine.' Health professionals worldwide support the TPNW as a public health imperative, including the International Committee of the Red Cross, International Physicians for the Prevention of Nuclear War (IPPNW), International Council of Nurses, World Medical Association, and the World Federation of Public Health Associations.
Statements from PSR personnel:
"We have treaties banning chemical and biological weapons — and they've worked. The world is measurably safer as a result. Now it's time for nuclear weapons to be similarly discredited. The nuclear ban treaty has already created meaningful change in the world. This ratification will lead to more. At PSR, we are inspired by the 50 countries that are leading the world to a better future. We look forward to shaking up the complacency of the United States and moving our country toward total elimination of nuclear weapons."   — Jeff Carter, PSR Executive Director
"This momentous occasion demonstrates that a tidal change in nuclear weapons policy is not only possible, it is inevitable if we continue to persevere, organize, and do all that each of us can to grow the movement for nuclear abolition."   — Denise Duffield, Associate Director, PSR-Los Angeles
"The TPNW is a clear message from nations across the globe that nuclear weapons threaten the survival of all humanity and must be eliminated before they eliminate us."   — Ira Helfand, MD, PSR Board member and IPPNW Co-President
"Today, with the 50th ratification of the TPNW, we see countries across the world have decidedly prohibited nuclear weapons because these weapons do not represent the reality we want to experience. I am overjoyed and feel even more inspired to work to abolish nuclear weapons through Back from the Brink resolutions in the United States."   — Anna Linakis Baker, MPH, Executive Director, Greater Boston PSR
"The TPNW provides a bold vision for a more just and sustainable future. As long as nuclear weapons exist, they pose an existential threat to all life on this planet. The TPNW sends a clear message that civil society craves true peace & that we refuse to be dragged into nuclear war and nuclear famine at the hands of the powerful few."   — Allen Hester, Grassroots Coordinator, PSR Nuclear Weapons Abolition Program
Physicians for Social Responsibility (PSR) recently launched a search for our next Executive Director. This is a unique opportunity to assume a leadership role in...