Over 200 local elected officials urge Biden to eliminate nuclear weapons
November 20, 2023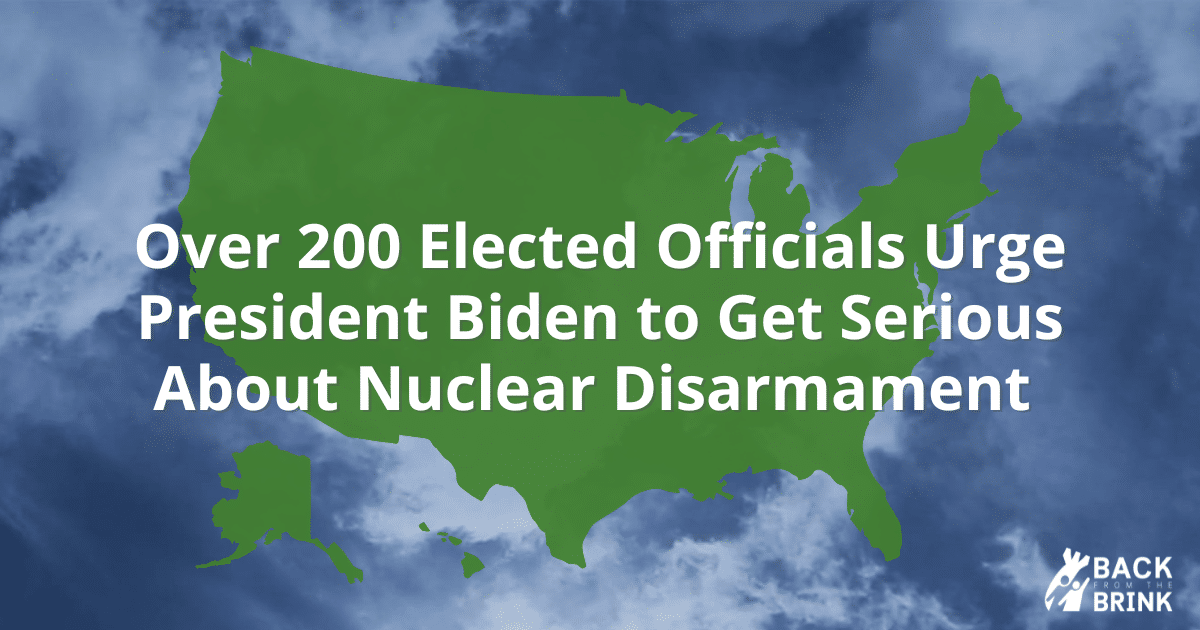 On November 16, 218 mayors, city councilors, county and municipal officials and state legislators from around the United States delivered a letter to President Joe Biden urging him to fulfill his campaign promise and act decisively and urgently to confront the existential threat to humanity posed by nuclear weapons.
Organized by Back from the Brink, the national grassroots coalition campaigning to abolish nuclear weapons, the letter specifically urges the president to send an observer delegation to the 2nd Meeting of States Parties to the UN Treaty on the Prohibition of Nuclear Weapons (TPNW) now underway at the United Nations, and to initiate negotiations with all nuclear weapons states toward a verifiable, timebound agreement to eliminate all nuclear weapons from the planet.
Physicians for Social Responsibility is a National Coalition Partner in Back from the Brink.
During the 2020 campaign Biden said, "I will restore American leadership on arms control and non-proliferation as a central pillar of U.S. global leadership…I will work to bring us closer to a world free of nuclear weapons so that the horrors of Hiroshima and Nagasaki are never repeated."
But today, we are instead planning to spend billions on new nuclear weapons, accelerating a dangerous new arms race.
"At a time where federal funds are desperately needed in communities like Madison in order to build affordable housing, improve public transit, and develop sustainable energy sources, our tax dollars are being diverted to and wasted on nuclear weapons," said Mayor Satya Rhodes-Conway, of Madison, WI. "Nuclear weapons don't make us safer. As Mayor, I have a solemn duty to do what I can to keep my constituents safe – and nuclear weapons should be no exception."
The countries that have signed or ratified the TPNW are demanding to be heard and calling for urgent action, as are elected officials, parliamentarians, civil society organizations and tens of millions of everyday folk from around the world. "Although nuclear weapons are not always in the news, their existential threat is always with us and will be until they are verifiably eliminated," said Mayor John Hamilton, of Bloomington, IN. "As Mayor, I call on our federal officials to take action immediately."
In the United States, 83 municipalities and state legislative bodies have passed "Back from the Brink" resolutions urging the United States to take common sense steps to prevent nuclear war, including major U.S. cities such as Boston, Chicago, Tucson, Salt Lake City, Los Angeles, Minneapolis, Philadelphia, and Washington, DC. Some 470 organizations have endorsed the Back from the Brink policy platform, as have 42 members of the U.S House of Representatives who have co-sponsored H. Res. 77, a resolution introduced in January, 2023 by Rep. Jim McGovern (D-MA) and Rep. Earl Blumenauer (D-OR).
"Every nation and person on the planet has a strong self interest in preventing nuclear war." said Denise Duffield, Associate Director of Physicians for Social Responsibility Los Angeles and a member of the BftB Steering Committee. "Our letter to President Biden and our campaign is about creating the political will for that to happen. It is not OK to leave the very survival of humanity to a small number of people and nations. We are bringing people and communities together to demand action now before it's too late."
---
Ask Secretary of State Blinken to send an official U.S. delegation of observers to the 2nd Meeting of States Parties to the TPNW

The Back from the Brink letter is available here.
Learn more about Back from the Brink Coalition here.
On November 3 in Washington, DC, Physicians for Social Responsibility bestowed a Health Hero Award upon Tina Cordova, co-founder of the Tularosa Basin Downwinders Consortium. ...
Three important reports on climate change were issued recently – and the news isn't good. They found widespread impacts and more billion-dollar climate- and weather-related...
After several months of negotiations, Congress is still in the throes of the appropriations process, though luckily we have avoided a government shutdown once again....