Nuclear Testing Rears Its Ugly Head
June 29, 2020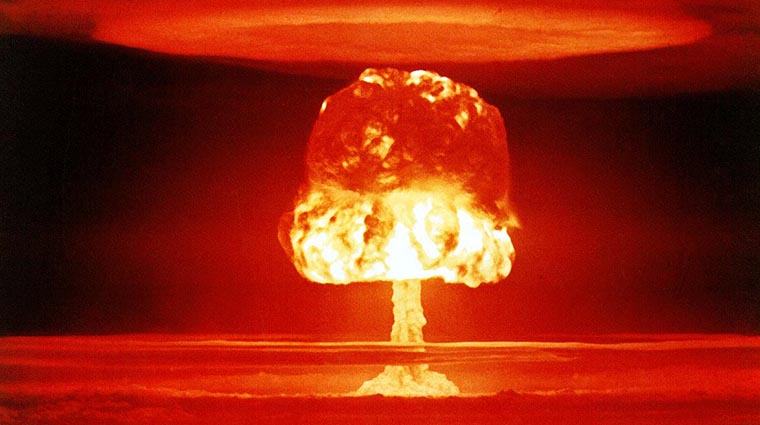 As the Trump administration continues to pursue talks including Russia and China, administration officials are considering new nuclear weapons tests as a negotiating tool. Even more disturbing, Senator Tom Cotton (R-Ark) brought this idea out of the theoretical with an amendment to the 2021 National Defense Authorization Act to authorize $10 million to execute a nuclear test "if necessary." In a party-line vote June 11, the Senate Armed Services Committee approved Cotton's amendment. Such a test could be conducted in a matter of a few months underground at the former Nevada Test Site outside Las Vegas.
This decision would:
Break America's 28 year moratorium on nuclear weapons tests
Stand in stark contrast to the Comprehensive Test Ban Treaty, signed by 184 countries, demonstrating a clear global taboo on nuclear testing
Do nothing to rein in Russian and Chinese nuclear arsenals or improve the environment for negotiations. Rather, it would likely raise tensions and possibly trigger an outbreak of nuclear testing by other nuclear actors, leading to an all-out global arms race in which everyone would come out a loser.
Nevadans are making their voice heard: they don't want these tests. Representative Dina Titus (D-Nev) and Sen. Ed Markey (D-Mass) have filed companion bills in the House and Senate to prevent nuclear testing at the Nevada National Security Site north of Las Vegas. Rep. Steven Horsford, whose congressional district includes the test site, co-sponsored the Titus bill, citing safety concerns and no need to resume testing.
PSR has been working with a broad coalition of groups to commemorate the 75th anniversary of Hiroshima and Nagasaki. In honor of this anniversary, we are lifting up the stories of individuals and communities who have been most directly impacted by nuclear weapons. This includes American communities exposed to harmful radiation and fallout by previous nuclear tests. Learn more about these survivors here.
PSR is actively opposing attempts to fund new nuclear tests in this year's  defense budget and we will continue to highlight the stories of testing victims. We also stand in solidarity with the communities who are actively fighting to prevent these tests in their backyard. Nuclear tests do nothing to make Americans safer. We must ensure that testing is kept off the table and prevent the administration from creating another generation of nuclear frontline communities.
On November 3 in Washington, DC, Physicians for Social Responsibility bestowed a Health Hero Award upon Tina Cordova, co-founder of the Tularosa Basin Downwinders Consortium. ...
On November 16, 218 mayors, city councilors, county and municipal officials and state legislators from around the United States delivered a letter to President Joe Biden...
Three important reports on climate change were issued recently – and the news isn't good. They found widespread impacts and more billion-dollar climate- and weather-related...