Nuclear activists and physicians from the U.S. and Russia pass the torch to a new generation of physicians looking to end the nuclear weapons threat
October 22, 2021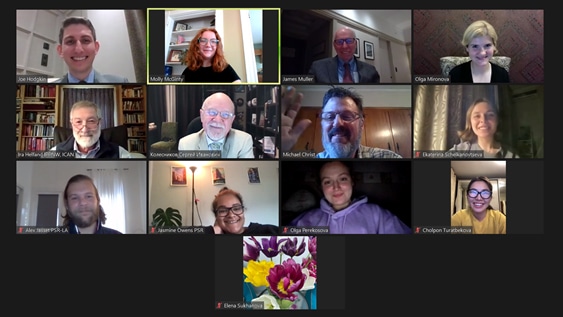 On October 13, International Physicians for the Prevention of Nuclear War (IPPNW) and its Russian affiliate Russian Physicians for the Prevention of Nuclear War (RPPNW) held an event where older physicians passed the torch to a new generation to continue to fight to rid the world of nuclear weapons and the threat of nuclear annihilation. During the event, the 'old guard' spoke of their previous joint efforts to reduce the nuclear threat which resulted in IPPNW receiving a Nobel Peace Prize in 1985, while the 'new guard' spoke about the importance of continuing these efforts and ensuring that it is a global effort, not just an effort spearheaded by the U.S. and Russia. The event concluded with the release of a statement from the two organizations calling for physicians and health professionals around the world to join the movement in pressuring the U.S. and Russia to make real efforts to reduce their arsenals and stabilize the international security environment.
On November 3 in Washington, DC, Physicians for Social Responsibility bestowed a Health Hero Award upon Tina Cordova, co-founder of the Tularosa Basin Downwinders Consortium. ...
On November 16, 218 mayors, city councilors, county and municipal officials and state legislators from around the United States delivered a letter to President Joe Biden...
Three important reports on climate change were issued recently – and the news isn't good. They found widespread impacts and more billion-dollar climate- and weather-related...