New Report: Fracking with "Forever Chemicals"
July 12, 2021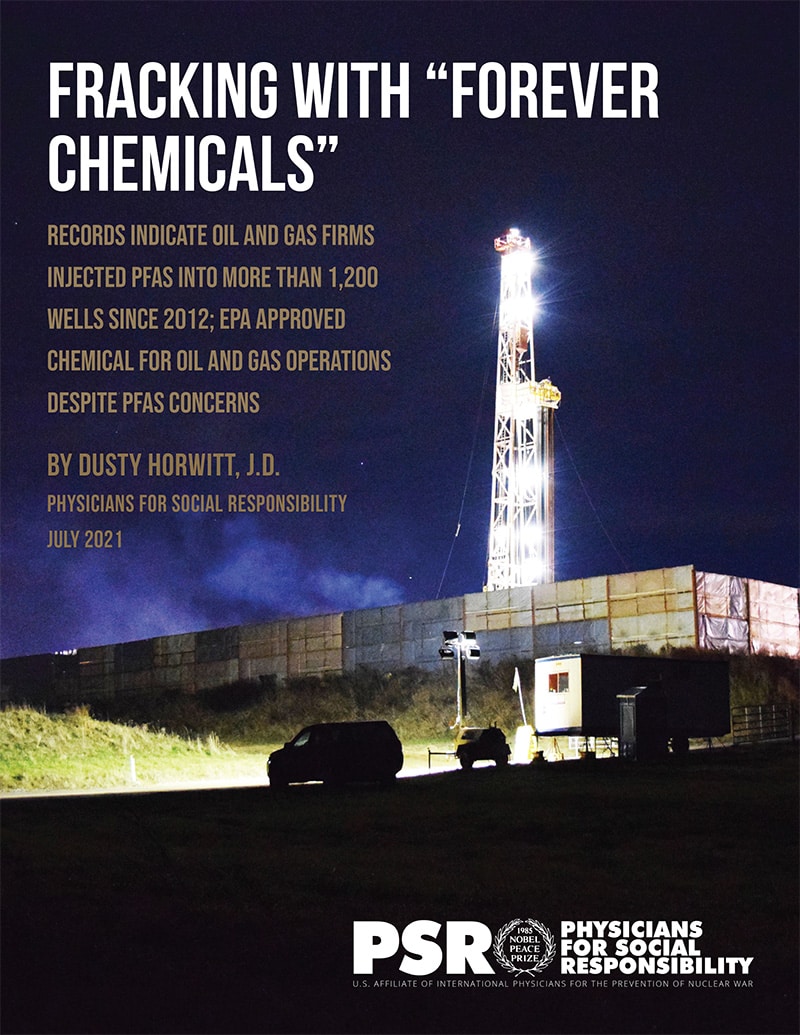 PSR is proud to publish Fracking with "Forever Chemicals," a report presenting previously unpublicized evidence that major oil and gas companies, including ExxonMobil and Chevron, have used per- and polyfluoroalkyl substances (PFAS), or substances that could degrade into PFAS, in hydraulic fracturing ("fracking") for oil and gas in more than 1,200 wells in six U.S. states.
Toxic in minuscule concentrations, these man-made chemicals accumulate inside the human body and do not break down in the environment – hence their nickname, "forever chemicals." Various PFAS have been linked by the U.S. EPA to low infant birth weights, effects on the immune system, cancer, and hormone disruption.
Read press coverage in The New York Times, Rolling Stone, NPR, Esquire, The Hill, The Hill (additional coverage), Axios, Gizmodo, E&E News, Common Dreams, The Daily Beast, The Guardian, Treehugger, WESA (Pittsburgh), NC Policy Watch, Farm and Dairy, Indiana Environmental Reporter, Green Matters, EcoWatch, Living on Earth, NM Political Report, The Philadelphia Inquirer Editorial, Rising Up with Sonali, Irish Independent, La Repubblica (Italian), Cambio16 (Spanish), Drill or Drop, and UrduPoint.
Click here to watch our web-based briefing on the report's findings.
Speakers include:
Dusty Horwitt, author and researcher. Horwitt, now consulting for PSR, has researched chemical use in the oil and gas industry for over a decade. His reports and investigations have received media coverage in the New York Times, Dallas Morning News, Pittsburgh Post-Gazette, Charleston Gazette, and ProPublica.
Linda Birnbaum, board-certified Ph.D. toxicologist and former director of the National Institute of Environmental Health Sciences.
Silverio Caggiano, recently retired Battalion Chief and hazardous materials expert with the Youngstown, Ohio fire department.
Wilma Subra, Louisiana-based chemist and MacArthur Foundation "Genius" award winner who has spent decades working to protect people from oil and gas-related pollution.
The use of PFAS and/or PFAS precursor substances in oil and gas operations adds a highly potent substance to an already long list of toxic chemicals used in drilling and fracking. Join PSR in calling on the U.S. EPA to take immediate steps to protect us from those chemicals, starting with a moratorium on PFAS use for oil and gas extraction. Add your name to our letter to EPA here.
PSR's Gas Stove PSA campaign wraps up with two new animated videos. The fourth in our campaign focuses on clean energy and electrification wins around...