New PSR resource on historic first nuclear weapons ban treaty conference ahead of second conference next month
October 26, 2023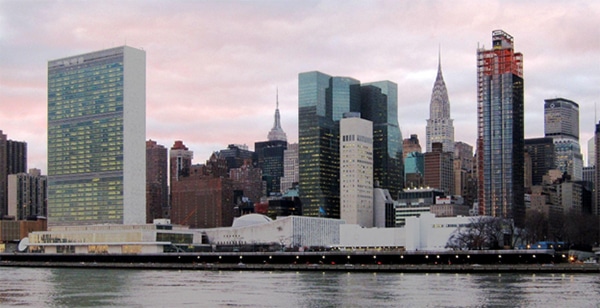 From June 21-23, 2022, a historic First Meetings of States Parties (1MSP) took place between all States Parties to the Treaty on the Prohibition of Nuclear Weapons (TPNW) to mark the Treaty's entry into force and chart a path towards full and effective implementation of the TPNW. A Declaration re-committing States Parties to "a world free of nuclear weapons" and an Action Plan to map out 50 specific next steps for States Parties to pursue ahead of the Second Meeting of States Parties (2MSP) were the adopted outcomes of 1MSP.
Now we're just under one month away from 2MSP — hosted by Mexico — set to occur at UN headquarters in New York from November 27-December 1. States Parties will reconvene to assess their progress on treaty implementation since 1MSP, continue to raise awareness on the humanitarian dangers of nuclear weapons and the need for abolition, and renew their commitment to the Treaty.
International Campaign to Abolish Nuclear Weapons (ICAN) is the official 2MSP Civil Society Coordinator, and ICAN will host a Campaigners' Meeting in New York on November 26.  
In preparation for an action-packed and exciting week, PSR has put together a fact sheet summarizing the adopted outcomes from 1MSP. Take a look and share this resource to learn about or refresh your knowledge on what States Parties have been up to the past year.
PSR will send a delegation of 10 abolitionists to the conference. We are expecting that much of the 2MSP will be livestreamed. For more information on that as it becomes available, stay tuned to PSR social media channels or email Martin Fleck, Nuclear Weapons Abolition Program Director, at mfleck@psr.org for updates on 2MSP and ways you can take action to bring us closer to a world free of nuclear weapons.
On November 3 in Washington, DC, Physicians for Social Responsibility bestowed a Health Hero Award upon Tina Cordova, co-founder of the Tularosa Basin Downwinders Consortium. ...
On November 16, 218 mayors, city councilors, county and municipal officials and state legislators from around the United States delivered a letter to President Joe Biden...
Three important reports on climate change were issued recently – and the news isn't good. They found widespread impacts and more billion-dollar climate- and weather-related...