New Nuclear Famine Report Outlines the Catastrophic Effects of Nuclear Weapons on Global Food Supply
August 25, 2022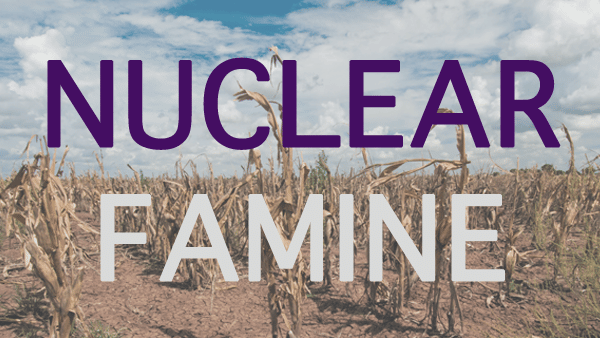 On August 15, Nature Food journal published a new report discussing the immense catastrophic effects of nuclear weapons on global food supply. Led by Dr. Lili Xia of Rutgers University, with collaboration from Drs. Alan Robock and Brian Toon — who have published similar studies in the past — we learn that with just three percent of the world's nuclear weapons used, anywhere from 250 million to 2.5 billion people would die of mass starvation as a result of a nuclear exchange. International Physicians for the Prevention of Nuclear War (IPPNW) has published a companion report providing further analysis on the scientific study.
PSR released a statement to publicize the findings, stressing the fact that abolishing nuclear weapons is the only way to prevent any of these nuclear famine scenarios from becoming reality. 
PSR also created an infographic that breaks down the key findings of the report. You can download this infographic to share with friends, colleagues, and especially with elected officials.
As well, Chesapeake PSR President Dr. Gwen DuBois published a Letter to the Editor in the Washington Post commending their reporting on the new study. Associate Director of the Nuclear Weapons Abolition Program Jasmine Owens placed an op-ed in Responsible Statecraft stressing the urgent need for action in the wake of the report's findings. Read the full Open Access report in Nature Food here.
Prevention is the only cure. Abolishing nuclear weapons is the only way to ensure these weapons are never used and their destructive effects are never experienced, again.
On November 3 in Washington, DC, Physicians for Social Responsibility bestowed a Health Hero Award upon Tina Cordova, co-founder of the Tularosa Basin Downwinders Consortium. ...
On November 16, 218 mayors, city councilors, county and municipal officials and state legislators from around the United States delivered a letter to President Joe Biden...
Three important reports on climate change were issued recently – and the news isn't good. They found widespread impacts and more billion-dollar climate- and weather-related...