New Analysis of Fracking Science Finds Serious Harms to Public Health, Environment, and Climate
June 19, 2019
Contact: Olivia Alperstein, (609) 206-7920, oalperstein@psr.org
Major new report gives a uniquely comprehensive picture of the effects of over a decade of natural gas and fracking build-out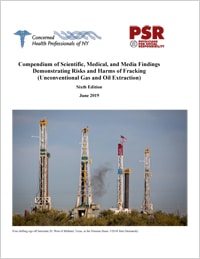 As the country grapples with climate change, the policy choices made about natural gas and fracking in the near future are enormously consequential. A major new report compiles, tracks, and analyzes key trends about drilling, fracking, and its infrastructure, and demonstrates that there are pervasive, grave misunderstandings about the effects of natural gas and fracking. It finds that drilling, fracking, and reliance on natural gas can lead to serious harm to public health and the environment, and are incompatible with climate solutions.
Physicians for Social Responsibility and Concerned Health Professionals of New York released the Compendium of Scientific, Medical, and Media Findings Demonstrating Risks and Harms of Fracking, sixth edition, written by scientists, doctors, and experts who have extensive experience with the issue. The Compendium draws on nearly 1,500 studies (355 of which were published in 2018) and important government reports and investigative reports by journalists. Several experts are available, upon request, for interviews about the new report and the issue more broadly.
Ten years ago, there were a handful of peer-reviewed, scientific studies of drilling and fracking. Today there is a substantial body of evidence, making the Compendium's scope and analysis of trends crucial. The analysis finds that the vast majority of evidence points to serious risks and harms from drilling, fracking, and related infrastructure like pipelines and compressor stations. The implications for public health are increasingly serious, given that today at least six percent of the U.S. population—17.6 million Americans—live within a mile of an active oil or gas well, making them particularly vulnerable to fracking-related health impacts.
Sandra Steingraber, PhD, co-founder of Concerned Health Professionals of New York, said, "With each edition of the Compendium, the case against fracking becomes more damning. As the science continues to come in, early inklings of harm have converged into a wide river of corroborating evidence. All together, the data show that fracking impairs the health of people who live nearby, especially pregnant women, and swings a wrecking ball at the climate. We urgently call on political leaders to act on the knowledge we've compiled."
"Despite efforts by the gas industry to suppress all health data on fracking, the Compendium documents the serious harm fracking holds for pregnant women, children and those with respiratory disease," said Walter Tsou, MD, MPH, interim executive director of Philadelphia Physicians for Social Responsibility and a former Philadelphia Health Commissioner. He added, "We need to ban fracking."
The Compendium compiles and presents the evidence behind environment and health-related trends, detailing more than a dozen trends from the emerging science, including:
Regulations are simply not capable of preventing harm.
Fracking and natural gas are incompatible with climate solutions.
Fracking and the disposal of fracking waste threaten drinking water.
Public health effects associated with drilling and fracking include poor birth outcomes, cardiovascular and respiratory impacts, and cancer risks.
Fracking infrastructure—including gas-fired power plants, pipelines, sand mining, and liquefied natural gas (LNG) export facilities—poses serious exposure risks to those living nearby.
Drilling and fracking contribute to toxic air pollution and smog (ground-level ozone) at levels known to have health impacts. Workers are at special risk.
Fracking raises human rights and environmental justice issues.
These trends underscore how continued support for fracking and natural gas—and its ancillary infrastructure—rests on outdated assumptions and dangerous misconceptions about their impacts. The notion that natural gas can serve as an intermediate "bridge fuel" between coal and renewable energy is fallacious and now disproven by new scientific evidence showing that methane is a more powerful greenhouse gas than formerly appreciated and escapes in larger amounts from all parts of the extraction and distribution process than previously presumed, including from inactive, long-abandoned wells. Grossly underestimating methane emissions threatens to undermine the efficacy of efforts to combat climate change.
"The Compendium gives a sobering overview of the toxic harm that fracking is inflicting on our water, our air and our people," observed Larry Moore, MD, an emergency room doctor in Colorado Springs and a member of Physicians for Social Responsibility Colorado Working Group. "It's a real problem here in Colorado, where I practice, and it's getting worse and worse across the country."
The evidence to date from scientific, medical, and journalistic investigations combine to demonstrate that fracking poses significant threats to air, water, human health, public safety, community cohesion, long-term economic vitality, biodiversity, seismic stability, and climate stability.
The Compendium finds that, "Across a wide range of parameters, from air and water pollution to radioactivity to social disruption to greenhouse gas emissions, the data continue to reveal a plethora of recurring problems and harms that cannot be sufficiently averted through regulatory frameworks. There is no evidence that fracking can operate without threatening public health directly and without imperiling climate stability upon which public health depends."
An additional link to the Compendium is available here.
###
We are pleased to announce that Brian Campbell, PhD, has accepted the offer to serve as PSR's next Executive Director, effective November 1, 2023. Brian...
CONTACT: Isabella Javidan , ijavidan@psr.org , 612-812-3231 Physicians for Social Responsibility (PSR) expresses deep distress over reports–including from the spokesperson for the Ministry of Health...
160 Million Pounds of Undisclosed Chemicals Could be PFAS; Groups Call for Ban on PFAS Use in Oil and Gas Wells For more information, contact:...