Mobilizing Against Racism
June 17, 2020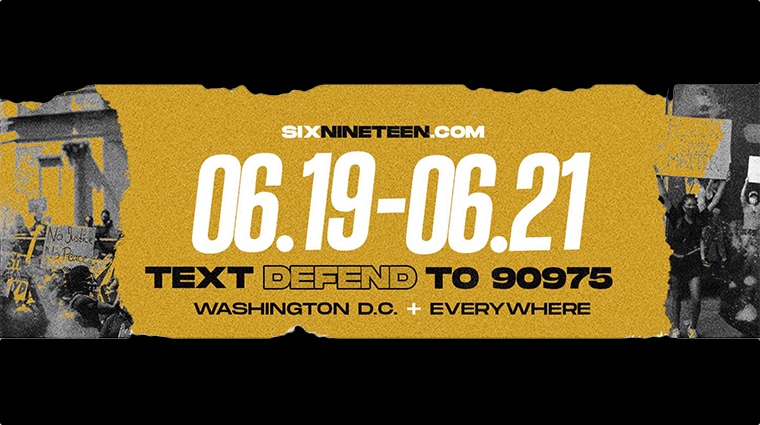 Juneteenth, observed annually on June 19, is a holiday commemorating the end of slavery in the United States. It is the date when federal troops arrived in Texas in 1865 and the last enslaved African Americans learned of the Emancipation Proclamation, more than two years after it was initially issued. Most states and the District of Columbia mark June 19 as a state holiday or observance.
The death of George Floyd sparked a renewed call for action again racism and police brutality in the United States. A little over a week ago, millions joined the call for an to end police violence and systemic racism in protests around the country.
And now, in recognition of the upcoming Juneteenth holiday, Movement for Black Lives (M4BL) is organizing a mobilization for Black Lives across the country starting this Friday. Their website has information on M4BL principles and demands, various solidarity actions you can take if you are so inclined (including digital actions), links to a social media toolkit for spreading the word, and a directory of events around the country, many of which are virtual events.
We'll be using our Twitter channels (@psrenvironment and @psrnuclear) to provide additional updates about this mobilization the rest of this week, So now is a perfect time to follow us on Twitter if you don't already.
Taking Action, Staying Safe
Many individual health professionals and groups have offered guidance on minimizing risk when attending mass demonstrations during the COVID-19 pandemic. But it's also important to remember that there are ways in which you can take action without participating in a demonstration — an activity that may increase the spread of COVID-19. As noted above, many of the M4BL events listed in their directory include virtual events. (It's also worth noting that another important virtual event is taking place this weekend: The Mass Poor People's Assembly and Moral March on Washington.)
Social media and other digital tools can also be used to help raise awareness, pass along information, and, importantly, communicate with and make demands to local officials. Emailing, tweeting, and calling your elected representative to support nondiscriminatory and antiracist policies, or to demand they take action to stop police brutality, can have an influence, just as when you call or write your representatives to weight in on legislation that supports PSR's policy priorities on climate change or nuclear weapons abolition.
In addition, in communities where demonstrations are being held, you can support protesters by donating and dropping off food, water, medical supplies, masks or other supplies. Or consider making a sign or creating artwork in support of demonstrations happening in your community.
Another option is to consider making a donation to a bail fund. These organizations collect money for the purpose of posting bail for those in jail or pretrial detention. Bail funds can be used to free protestors who are arrested during a protest. The Community Justice Exchange lists a Directory of Community Bail Funds by state on its website, so you can contribute to one in your community.
On November 3 in Washington, DC, Physicians for Social Responsibility bestowed a Health Hero Award upon Tina Cordova, co-founder of the Tularosa Basin Downwinders Consortium. ...
On November 16, 218 mayors, city councilors, county and municipal officials and state legislators from around the United States delivered a letter to President Joe Biden...
Three important reports on climate change were issued recently – and the news isn't good. They found widespread impacts and more billion-dollar climate- and weather-related...