Meet PSR's Summer 2019 Interns!
June 25, 2019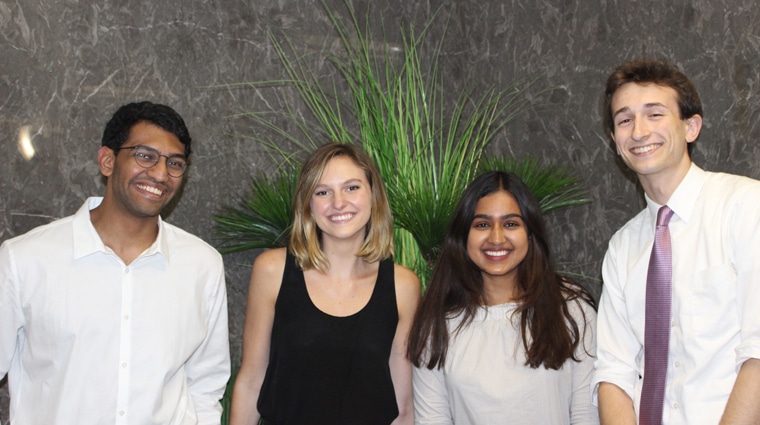 PSR is delighted to welcome four new interns for summer 2019, all of whom bring a wide range of perspectives, experiences, and skills to advance the critical missions of our Environment and Health Program and our Nuclear Weapons Abolition Program.
Read their short bios below:
Murli Mahesh is a student from Singapore studying law at the University of Bristol, and he's excited to work with PSR this summer "because the people here make the office really fun."
Ellen Claire Newell is currently in her second year of earning a Master's of Public Health degree at Florida State University. She was introduced to PSR through her work in health and environmental advocacy where she started working with her local PSR chapter in Tallahassee, and is excited to continue to grow in this field while interning for the national PSR office in DC.
Samyuktha Sethumadhavan is a rising second year law student at the London School of Economics (LSE). Furthering her interests in international relations and national security policy, she is interning in PSR's Nuclear Abolition Program, and hopes to gain valuable experience in the nonprofit sector.
Samuel Maves is an undergraduate at the University of Michigan studying sociology and biology. He interns with the Environment & Health program and is excited to learn about how environmental policy work at the federal level can empower communities and protect health.
On November 3 in Washington, DC, Physicians for Social Responsibility bestowed a Health Hero Award upon Tina Cordova, co-founder of the Tularosa Basin Downwinders Consortium. ...
On November 16, 218 mayors, city councilors, county and municipal officials and state legislators from around the United States delivered a letter to President Joe Biden...
Three important reports on climate change were issued recently – and the news isn't good. They found widespread impacts and more billion-dollar climate- and weather-related...