Just What the Doctor Ordered, for Our Health and Future: Physicians for Social Responsibility Applauds Rep. Smith and Sen. Warren's "No First Use" Legislation
January 30, 2019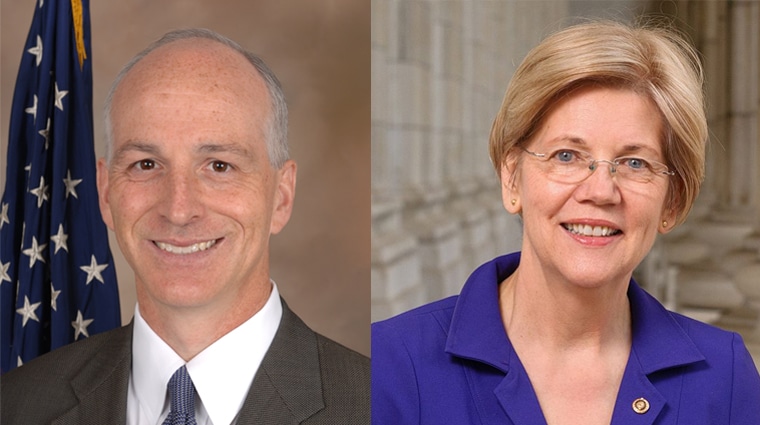 For Immediate Release
Press Contact:
Olivia Alperstein, (202) 587-5232
oalperstein@psr.org
Washington, D.C. —  Physicians for Social Responsibility applauds Representative Adam Smith and Senator Elizabeth Warren for their bold commitment to ensuring the health and safety of all families by establishing a U.S. policy of "No First Use" of nuclear weapons. On January 30, Smith, Chair of the House Armed Services Committee and Warren, a member of the Senate Armed Services Committee, introduced the "No First Use Act" in the House and Senate.
"This simple, common-sense statement of principle—making it clear to the countries of the world that the U.S. will never, ever deploy its nuclear weapons against any state unless they have deployed them against us, is an important first step toward returning our country to sanity when it comes to nuclear weapons, and one that we hope will put us back on the path of negotiated disarmament with other nuclear weapons states. We are fortunate to have leaders in Congress who are willing to challenge the dangerous status quo," said Jeff Carter, Executive Director of Physicians for Social Responsibility.
Smith and Warren declared in their joint statement announcing the legislation, "Our current nuclear strategy is not just outdated—it is dangerous. By making clear that deterrence is the sole purpose of our arsenal, this bill would reduce the chances of a nuclear miscalculation and help us maintain our moral and diplomatic leadership in the world."
"All my life I've been told that the United States maintains a nuclear arsenal solely because other nations have nuclear weapons, and that's the way most Americans view it. It's high time that United States made No First Use the law of the land," said Martin Fleck, PSR Nuclear Weapons Abolition Program Director of Physicians for Social Responsibility. "Most Americans already believe the United States should not start a nuclear war."
A nuclear exchange would result in one of the worst mass health crises humanity has ever faced, and no country on earth, including the United States, would have an adequate health or emergency response. PSR, a leading health voice on the issue of nuclear weapons policy, was founded in 1961 by a group of medical professionals who sought to educate the public about the full health impacts of nuclear weapons. For decades, PSR has mobilized medical and health professionals to call for policies that prevent the use of nuclear weapons and prevent nuclear war.
"PSR endorses the No First Use Act. We hope this leads to a robust debate in Congress about the current U.S. nuclear weapons posture and raises questions about the rationale for continued taxpayer investment in these horrific weapons," added Carter.
###
About Physicians for Social Responsibility
PSR is a nonprofit organization representing medical and health professionals and concerned citizens, with approximately 40,000 members and supporters and with chapters in major cities and medical schools throughout the United States. PSR has been working for more than 55 years to create a healthy, just and peaceful world for both present and future generations. Learn more at www.psr.org and follow us on Facebook and Twitter.
We are pleased to announce that Brian Campbell, PhD, has accepted the offer to serve as PSR's next Executive Director, effective November 1, 2023. Brian...
CONTACT: Isabella Javidan , ijavidan@psr.org , 612-812-3231 Physicians for Social Responsibility (PSR) expresses deep distress over reports–including from the spokesperson for the Ministry of Health...
160 Million Pounds of Undisclosed Chemicals Could be PFAS; Groups Call for Ban on PFAS Use in Oil and Gas Wells For more information, contact:...