Join with PSR to commemorate Hiroshima & Nagasaki 75th anniversary
June 25, 2020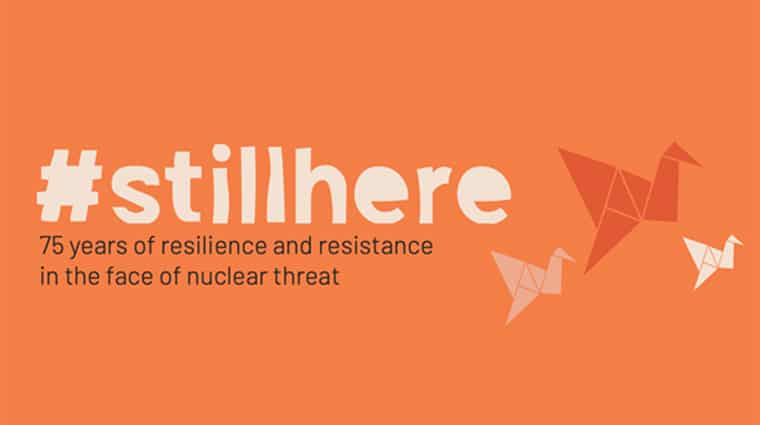 As the 75th anniversary of the bombings of Hiroshima and Nagasaki approaches, a coalition of organizations—including PSR—have come together to raise awareness of nuclear weapons and their dire humanitarian impacts, show support for the survivors, coordinate media outreach and amplify the voices for disarmament all around the country. This anniversary lends a chance to highlight the voices of those who have paid the human cost of nuclear weapon production and use. Over 150 organizations have signed onto a joint Position Statement, which reaffirms our moral obligation, as the only country to ever use nuclear weapons in conflict, to press our leaders to take the actions necessary to ensure nuclear weapons are never used again.
Along with the Position Statement, the coalition has created a new website, to raise awareness of the humanitarian impact of nuclear weapons and this anniversary in particular. The site is "unbranded" meaning it is not owned by any particular organization and is solely dedicated to coordinating and lifting up activities around the anniversaries. The website features a downloadable "toolkit" for disarmament organizers,  lays out the issues that our coalition advocates for year round, including the Radiation Exposure Act, New START, No First Use, The Treaty on the Prohibition of Nuclear Weapons, and more. It also promotes the Appeal of the Hibakusha, an international petition created by the survivors of Hiroshima and Nagasaki calling for the elimination of all nuclear weapons and supporting the ban treaty. The site shares stories of nuclear survivors, including the Hibakusha, downwinders from nuclear testing and production sites, uranium miners, military personnel exposed to harmful levels of radiation, and many more. Their stories portray the lifelong adversity, illnesses, and loss caused by nuclear weapons, and they inspire our advocacy.
The website also features a calendar and 'clickable' map to inform the public and coalition members of local events around the United States commemorating the anniversary. From Japanese lantern-floating ceremonies to virtual panel discussions featuring Hibakusha, there are many ways for individuals to participate and learn about Hiroshima and Nagasaki, no matter where they are.
On August 6th and August 9th, the coalition is excited to host a live virtual event on StreamYard commemorating the anniversaries. It will feature pre-recorded and live video segments from around the country including speakers, events, and other creative projects. We envision the livestream as a way to amplify the voices of activists and the stories of survivors beyond their typical audience.
In a time of unpredictability and social change, there is much for us to learn from the resilience and strength of atomic survivors. Please join us this August to honor them and amplify the call for total abolition of nuclear weapons, worldwide.
Gas stoves pose a health risk, particularly for children and the elderly. People living in homes with gas stoves experience higher rates of asthma, lung...